This article is more than 1 year old
'Fake 5G' feud falters as Sprint, AT&T settle suit over 'misleading' label
The 'E' is for 'Ersatz'
US network operators Sprint and AT&T remain coy about the details of a 5G ceasefire they have just agreed.
According to a report, the two have settled their feud over labelling faster LTE as "5G E", but the terms of the settlement have not been made public. We requested corroboration and details, but did not hear back.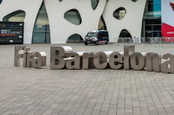 So. To the question we really wanted answering: How real is 5G?
READ MORE
Sprint confirmed the settlement to the Dallas Business Journal – but it remains to be seen whether AT&T will continue using the label.
AT&T painted its 4G upgrade as "5G E", or "5G Evolution", prompting Sprint to file a lawsuit in January, calling it "blatantly misleading".
Earlier this month the head of a European 5G consortium described US and Korean 5G launches as fakery: "LTE with new shoes."
AT&T is already rolling out its genuine 5G network, which it's calling 5G+. Yes, already. An upgrade (AT&T calls it a "yet faster 5G service") before you've received the slower, original 5G. You can apply to receive a wireless router if you live in one of the 11 metro areas. 5G+ is based on 3GPP's Release 15 and 16, partial "good enough" implementation, although important portions have been slung into the next track, "Release 16 Phase 2", which won't be nailed down until this December, according to 3GPP.
Vodafone's Liverpool 5G Deployment is taking shape very nicely; core sites are already done with a rapid pace adding more all the time! pic.twitter.com/etN6ZznOch

— Peter Clarke (@PedroClarke1) April 8, 2019
5G Evolution, on the other hand, is simply a faster LTE, using the (LTE Advanced) spec agreed in 2013. It takes advantage of 4×4 MIMO antennae, a higher modulation rate (256-QAM, or Quadrature Amplitude Modulation) and carrier aggregation to improve performance – at least twofold, argued AT&T, which has labelled devices capable of operating to the spec as "5G E".
5G may be many things to many people – we compared it to "an all-night drunken brainstorm" – but whatever 5G E may be, it isn't 5G. The E is for "Ersatz". ®