This article is more than 1 year old
Accenture sued over website redesign so bad it Hertz: Car hire biz demands $32m+ for 'defective' cyber-revamp
Rental firm fuming after consultancy 'never delivered a functional site or mobile app'
Car rental giant Hertz is suing over a website redesign from hell.
The US corporation hired monster management consultancy firm Accenture in August 2016 to completely revamp its online presence. The new site was due to go live in December 2017. But a failure to get on top of things led to a delay to January 2018, and then a second delay to April 2018 which was then also missed, we're told.
As Hertz endured the delays, it found itself immersed in a nightmare: a product and design that apparently didn't do half of what was specified and still wasn't finished. "By that point, Hertz no longer had any confidence that Accenture was capable of completing the project, and Hertz terminated Accenture," the car rental company complained in a lawsuit [PDF] lodged against Accenture in New York this month.
Hertz is suing for the $32m it paid Accenture in fees to get to that aborted stage, and it wants more millions to cover the cost of fixing the mess. "Accenture never delivered a functional website or mobile app," Hertz claimed.
Accenture told El Reg on Tuesday this week it believes Hertz's lawsuit is "without merit."
Among the most mind-boggling allegations in Hertz's filed complaint is that Accenture didn't incorporate a responsive design, in which webpages automatically resize to accommodate the visitor's screen size whether they are using a phone, tablet, desktop, or laptop.
That has been standard website practice for years and was even included in the contract that was signed, but the boffins at Accenture decided that only desktop and mobile versions were needed, according to Hertz. When the rental giant's execs asked where the tablet version was, Accenture "demanded hundreds of thousands of dollars in additional fees to deliver the promised medium-sized layout."
It actually gets worse.
The specs called for a common core of libraries to be "a fundamental principle of the design" so that the company could share information and structures across all its companies' websites and apps. And Accenture, well, completely ignored that, according to Hertz.
"Accenture deliberately disregarded the extensibility requirement and wrote the code so that it was specific to the Hertz brand in North America and could not be used for the Hertz global brand or for the Dollar and Thrifty brands," the lawsuit alleged.
Buggy code
What's more, Hertz reckoned the code that had been written was terrible and a security nightmare waiting to happen.
"Accenture's developers wrote the code for the customer-facing ecommerce website in a way that created serious security vulnerabilities and performance problems," it says before noting that "the defects in the front end development code were so pervasive that all of Accenture's work on that component had to be scrapped." (It was using Angular 2.)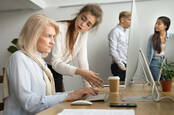 New age discrim row: Accenture, Facebook sued by sales boss for favoring 'new blood'
READ MORE
The lawsuit complains that Accenture decided to use Adobe's AEM analytics but didn't follow its archetype in either the coding or the file structure "which made the application unreliable and difficult to maintain, as well as making future updates challenging and inefficient." Its Java code didn't follow the Java standard, either, we're told.
And then in what may be the ultimate management consulting logic, Accenture apparently told Hertz that to speed up the production of the website's content management system, it wanted to use something called "RAPID" – and told Hertz it would have to buy licenses for it to do so. Hertz bought the licenses, however, it turned out that Accenture didn't actually know how to use the technology and the quick-fix took longer than it would have done without it.
The lawsuit noted: "As Accenture's project leaders acknowledged, Accenture 'spent a good deal of time fighting through integration of RAPID' into Hertz's environment."
Accenture also failed to test the software, Hertz claimed, and when it did do tests "they were seriously inadequate, to the point of being misleading." It didn't do real-world testing, we're told, and it didn't do error handling. On top of that, despite having specifically requested that the consultants provide a style guide in an interactive and updateable format – rather than a PDF – Accenture kept providing the guide in PDF format only, Hertz complained.
When Hertz confronted the consultants about the PDF problem, guess what the response was? Yep, it wanted "hundreds of thousands of dollars in additional fees" to cover the cost.
All fixable... for a fee
The team working on the project was pulled off by Accenture "but their replacements did not have the same level of experience, and a good deal of knowledge was lost in the transition," Hertz cried into its legal pillow.
Despite having missed the deadline by five months, with no completed elements and weighed down by buggy code, Accenture told Hertz it would cost an additional $10m – on top of the $32m it had already been paid – to finish the project. The lawsuit doesn't record what the reaction of Hertz executives was to that particular demand but we suspect it would have included post-watershed language.
A spokesperson for Accenture told The Register: "We believe the allegations in this lawsuit are without merit, and we intend to defend our position. Because this is an ongoing legal matter, we decline any further comment."
Hertz's lawyers, meanwhile, have asked for a jury trial, and the biz wants to be paid back all the tens of millions of dollars it spent on "deficient services and deliverables" as well as "the millions of dollars in additional costs that it has incurred in remediating and completing the project."
And you thought you had a nightmare website redesign story. ®