Lightbits? More like Latebits amirite? Israeli outfit finally swings by the all-flash array party
Is it a nerd? Is it a control plane? No, it's... SuperSSD
---
Israeli NVMe/TCP pioneer Lightbits finally showed up to the all-flash array market today with an Ethernet-attached SSD appliance – the imaginatively named SuperSSD.
Lightbits has already squeezed out its LightOS and LightField FPGA-based storage acceleration card to provide NCMe-over-Fabrics array access using TCP. RoCE is also supported. Now it has used these with commodity hardware to produce its own flash array, competing with the 14 other suppliers* already vying for customers' affections in a crowded space.
The SuperSSD array is a plug-and-play device as it works with existing Ethernet infrastructures and provides block access like direct-attached SSDs.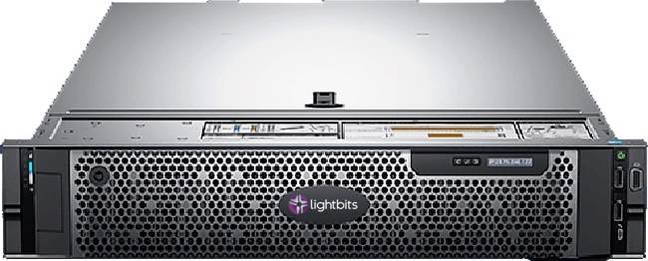 SuperSSD cabinet
The SuperSSD is a 2U standard server rack that supports a range of SDDs, from 4TB through 8TB to 11TB, using TLC (3bits/cell) 64-layer 3D-NAND. Maximum raw capacity is 264TB and Lightbits claimed the usable capacity range is 64TB to 1PB. This is achieved, the company said, by using data reduction with the PCIe-connected LightField card providing 4X or greater reduction from hardware-based compression.
It also provides hardware-assisted erasure coding. There can be up to two LightField cards per SuperSSD, with each one looking after 12 SSDs.
The LightOS provides a global flash translation layer, relieving the individual SSDs from doing it and improving writes to reduce write amplification and drive-level garbage reduction work. This means the SSDs should last longer.
LightOS also provides thin provisioning.
The array's latency is <100us with end-to-end latency across the dual 100GbitE NVMe/TCP links being <200us. Lightbits said it provides wire-speed and parallel access to massive datasets, with up to 5 million IOPS.
The arrays have both scale-up (add drives) and scale-out (add nodes) attributes.
Clustering provides high availability with recovery from node failure using nodes configured in active/active or active/passive arrangements.
The array is aimed at data-intensive workloads, including machine learning. They can be accelerated further by adding code to the array for in-storage processing. ®
*Bootnote
Competing suppliers include startups Apeiron, E8, Excelero and Pavilion Data Systems, new entrant VAST Data, plus recovering Violin Systems, Axelio, late-stage startup Kaminario and mainstream players Dell EMC (Xtremio, Unity and PowerMAX) Hitachi Vantara, HPE (3PAR and Nimble), IBM (DS8000, FlashSystem, Storwize), NetApp (AFF, E-Series and SolidFire) and Pure Storage (FlashArray, FlashBlade, ObjectEngine.)