This article is more than 1 year old
Micron's new 9300 SSDs are bigger, faster and simpler... which is nice
3 variants become 2 with lower latency and just the one format
Updated Micron has replaced its U.2 and AIC-format 9200 SSDs with an U.2-only 9300 line, beefing up capacities from 11TB to up to 15.36TB.
The 9200 included ECO, PRO and MAX variants for capacity-optimised, read-intensive and mixed workloads, but the ECO model has been scrapped for the 9300.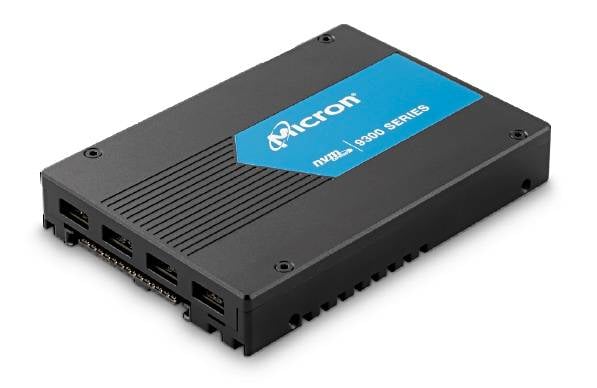 The 2.5-inch (U.2) 9300 SSD
The 9300 PRO uses 64-layer 3D NAND in TLC (3bits/cell) density – double the layers used in the 9200 SSDs, but same density.
The PRO touts 3.84TB, 7.68TB and 15.36TB capacity levels, whereas the old 9200 equivalent topped out at 7.68TB and the ECO stretched to 11TB.
The 9300 MAX, optimised via over-provisioning for mixed use with more writes, has lower 3.2TB, 6.4TB and 12.8TB capacities.
Latency has also been lowered in the 9300s from 92μs/21μs read/write to 86μs/11μs.
The drives are supported by an up to five-year warranty, with the PRO managing one drive write per day and the MAX three, reflecting its mixed read/write workload optimisation.
The 9300 PRO has up to 850,000/150,000 random read/write IOPS and 3.5GB/sec sequential read/write bandwidth while the MAX ups write IOPS to 310,000 with the same sequential bandwidth.
The 9200 ECO in its add-in-card format was generally faster with its up to 1 million random read IOPS and 5.5/3.8GB/sec sequential read/write bandwidth.
The power requirements of the 9300, with its sequential read/write draw of 14 and 21W, is 28 per cent lower than the 9200 SSD's electricity needs.
A product brief can be perused here and a speeds-and-feeds document here.
Boiled down, Micron has simplified its mainstream SSD product range with larger capacities, shorter latency, more speed and greater efficiency.
Updated
Reg readers have noted that no pricing for the 9300 has been mentioned in this article. This is because pricing remains under wraps. ®