This article is more than 1 year old
Facebook: Not saying we've done anything wrong but... we're just putting $3bn profit aside for an FTC privacy fine
Net income halved as antisocial network preps for big slap
Facebook's financial figures for its first quarter of 2019, published Wednesday, had an interesting twist.
The Mark Zuckerberg-run biz set aside $3bn of its profits, effectively halving its net income, to foot an expected fine from America's trade watchdog for seemingly running roughshod over people's privacy.
The size of the pot surprised many – even privacy campaigners have only been asking for $2bn – though the end cost may be even higher. Facebook said the Federal Trade Commission (FTC) could demand as much as $5bn over allegations of privacy-busting practices.
Here are the full figures [PDF] for the three months to March 31, summarized:
Revenues were strongish for the first quarter at $14.9bn, up 26 per cent year-on-year but down nearly $2bn on the previous quarter's results.
Net income was where Facebook took the real hit, with profits down 51 per cent on the year to $2.43bn due to setting aside that $3bn for the FTC. That said, Zuck & Co still pulled in $27m in pure profit every day of the quarter, which isn't too shabby by any standard.
Earnings per share were also hit as a result of the profit withholding. GAAP EPS was halved from last year to just $0.85 per share, missing Wall St's expectations by $0.76.
I had a friend who liked to drive his nice car very fast, so he set aside money for speeding tickets. He wasn't going to *change* his behavior (which is unlawful because it could harm people); he just tallied its consequences into the car's total operating costs, and carried on. https://t.co/4mSdvLS3Ke

— Riana Pfefferkorn (@Riana_Crypto) April 24, 2019
Daily (1.56bn) and monthly (2.38bn) active users of Facebook's apps both rose by eight per cent, and Zuckerberg claimed that at least 2.1 billion people use one of its apps, from Facebook to Instagram to WhatsApp, every day. The prospects for growth were strong, he asserted.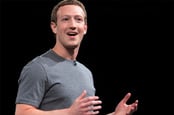 'We don't want a camera in everyone's living room' says bloke selling cameras in living rooms. Zuckerberg, you moron
READ MORE
"We had a good quarter and our business and community continue to grow," Zuckerberg told financial analysts on a conference call earlier today. "We are focused on building out our privacy-focused vision for the future of social networking, and working collaboratively to address important issues around the internet."
The behoodied one used the call to outline his plans for the future of his network. The basic idea, he said, was that people need public spaces and private spaces, and while Facebook has the public space sorted, it now needs to provide netizens with "a digital equivalent of the living room," a private cyber-zone in other words. Facebook, don't forget, sells an internet chat gizmo that's designed to sit in your living room.
This private nattering platform Facebook is planning will be based around WhatsApp, with small meeting spaces, end-to-end encryption on all messages, and with the site's servers operating in a country where the government couldn't demand access.
"We don't know how this will play out yet," he said. "But the fastest growing areas of our industry are small groups and messaging."
Facebook shares closed at $182.58 apiece, down 0.65 per cent, but were up 7.59 per cent in after-hours trading due to revenues beating Wall Street's expectations, and non-GAAP EPS of of $1.89 beating estimates by $0.27. ®
Psst... Facebook just hired Jennifer Newstead, a co-author of America's PATRIOT Act, and Kevin Bankston, a policy wonk and critic of that anti-terror law.