Cache in those chips: Intel emits more ninth-gen Core processors, Nvidia touts GPUs and swipes back at Tesla
Quick summary as your morning coffee brews
Roundup You're busy. We're busy... looking busy. Here's a quick catch up on this week's chip news for you.
Intel continues rolling out ninth-gen Core processors: In October last year, Intel launched its ninth-generation still-14nm Core processors for desktops and laptops. These are dubbed the Coffee Lake Refresh because it's a refresh of the eighth-gen Coffee Lake family (which is mostly built on the Skylake microarchitecture).
Now Chipzilla's continuing that roll out with, well, basically more of the same. On Tuesday, it added to its ninth-gen family things like the 2.4-to-5GHz 45W eight-core, 16-thread Core i9-9980H processor aimed at top-end laptops (and the overclockable 9980HK), all the way down to the 2.4-to-4.1GHz 45W four-core, eight-thread i5-9300H.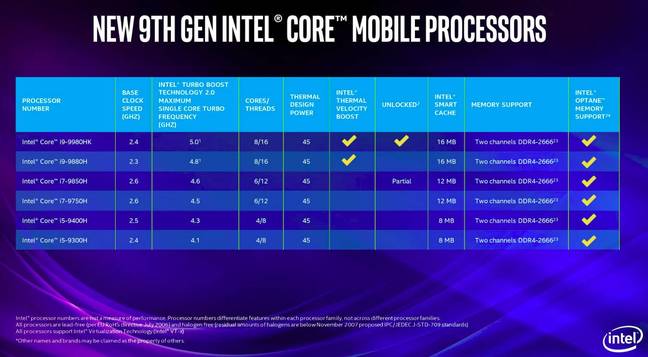 New laptop-grade chips ... Click to enlarge
For desktops, there's the 3.1-to-5GHz 65W eight-core, 16-thread Core i9-9900 down to the 3.1-to-3.7GHz 65W four-core, four-thread Core i3-9100T and various low-end mobile parts.
These chipsets support Wi-Fi 6 (definitely not 802.11ax), Thunderbolt 3 and SSDs using Intel's Optane memory. You can check out the list of new desktop-grade processors here [PDF] and the laptop ones here [PDF]. Laptops and other computers featuring the chips are due to go on sale this week.
Nvidia also has more chips out: On the graphics side, again on Tuesday, Nvidia emitted its GeForce GTX 1650 for desktops powered by its Turing GPU architecture. That same technology is in its GTX 1660 Ti chipset that's now inside 80 or more laptop models.
This comes a day after Tesla announced it was dumping Nvidia's GPU-based Drive self-driving car hardware in its vehicles for its own homegrown AI-focused processors. Each of these Tesla processors features two neural-network-math-accelerating engines plus off-the-shelf designs such as 12 Arm Cortex-A72 CPU cores. A move that has Nvidia somewhat rattled.
And if you're upgrading Windows 10... If you're hoping to install and run Windows 10 build 1903, the big May update, be aware that, like the 1809 October release, it supports up to the latest Intel and AMD chips, and Qualcomm Snapdragon 850.
That also means that, as in the past, if you, for example, have a system with a ninth-gen Intel Core processor in it, you can't officially boot Windows 7 or pre-Windows 10 1809 on it. ®