This article is more than 1 year old
5G is Chinese firms' foot in the door to Europe as Oppo launches flagship Reno mobe in Zurich
Huawei was just the beginning
While some governments obsess about Huawei, the impending launch of 5G is giving lesser-known Chinese upstarts a hope of cracking elusive Western smartphone markets – as Oppo demonstrated today in Zurich.
Last week Swisscom turned on the first commercial 5G network in Europe, and newcomer Oppo used the Swiss city to show off its latest Reno flagship smartphone series. It also used the occasion to emphasise its IoT ambitions with drones, watches, wearables, home appliances and health gear to come. It's bringing cloud services to the phones, including storage and a gaming service.
Oppo is one of three brands that belong to the giant BKK, alongside Vivo, and OnePlus – the brand that founder and former Oppo executive Carl Pei admitted is modelled on a cult. Oppo itself only launched, in a fairly low-key way, last November.
Oppo's entry shouldn't be sneered at. Only four years ago experts said then-newcomer Huawei stood little chance of success because nobody could pronounce the name. We all know what happened there. And Oppo is much bigger now than Huawei's fledgling consumer unit was back then.
That Oppo can now launch the models globally much faster than before is also noteworthy. Typically months elapse before a Chinese launch and the EMEA equivalent – this time the Reno has hit Europe within days of its Chinese debut.
The front camera, front flash, speaker and rear flash are all cleverly housed within the compact rising structure. In just 0.8s the structure fully extends, ready for whenever creativity strikes. #OPPOReno #FurtherYourVision pic.twitter.com/LODZ59mskN

— OPPO (@oppo) April 24, 2019
Oppo's Reno comes in both 5G and LTE flavours, and the most eye-catching model features a "shark fin" periscope motorised camera for selfies. If you're not a selfie-taker, or do video conferencing or chats, you'll never see it. The Reno 10x takes the Huawei P30 Pro head on, although the name is misleading: the main camera only claims to do 5x "lossless". This is lossless as defined by smartphone manufacturers – the algorithms throw away lots of data, but attempt to perform the equivalent of an optical zoom. The 210g beast with a 6.6-inch display runs a Snapdragon 855 chip with 8GB of RAM and 4,065mAh battery.
Availability in Switzerland will be from 10 May. The 5G service comes with no surcharge on Swisscom's network – not something we can expect at launch in the UK – although the 5G phone does have a surcharge over the LTE models. EE will carry the Oppo Reno 5G, although no firm date has been set for its launch here, though Glastonbury attendees will be able to experience 5G from the bog.
The LTE 10x Zoom will retail for €799 in early June, €100 cheaper than the 5G version. ®
Bootnote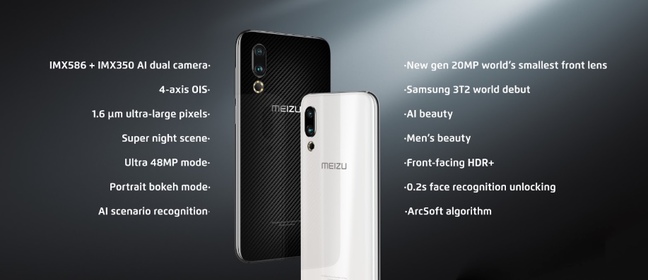 Click to enlarge
China's Meizu also launched a flagship this week, the 16s, another sub-$500 Snapdragon 855 flagship. But the outfit hasn't cracked the international rollout quite yet; no availability has been announced for any Anglophone market so far.