This article is more than 1 year old
The peelable, foldable phone has become the great white whale of tech
Now Samsung wants its samples back
Analysis So. Gartner was right to be cautious about the foldable phone after all. Samsung has postponed the 3 May launch of the Galaxy Fold handset, and now Reuters reports that the Korean giant wants all the samples back.
You're welcome, reviewers will think, as the units were peeling to bits anyway. For Samsung, it's ominously reminiscent of the Note 7 recall. However, this one has started to worry the entire industry.
The global smartphone market is stagnating, and customers are delaying upgrades. Manufacturers are desperate to bring a bit of sizzle back to the marketplace to revive demand. The versatile foldable promises two tricks: reviving the upgrade cycle and offering higher margins as it's being sold as a "2-in-1" (tablet and phone).
Manufacturers have been increasing the price of the flagship phones but offered only incremental annual improvements, arguably slowing down the upgrade cycle even more. In the US, the average iPhone owner now upgrades only every four years – a remarkable stat. With so little eye-catching innovation, this has also accelerated the decoupling of the phone and the network contract in many markets, including the UK, as mid-range models will do. 5G is predicted to revive demand a little next year as buyers "future-proof" their purchases, but a mass-market foldable range would do so organically, goes the argument.
While the two foldables unveiled by Samsung and Huawei carry a boutique price in 2019, prices should fall as volumes increase.
Earlier this year Bloomberg reported that display makers including BOE and Tianma were hot stocks. Samsung and Huawei would demonstrate the concept was useful, and China's vast manufacturing engine would rev up.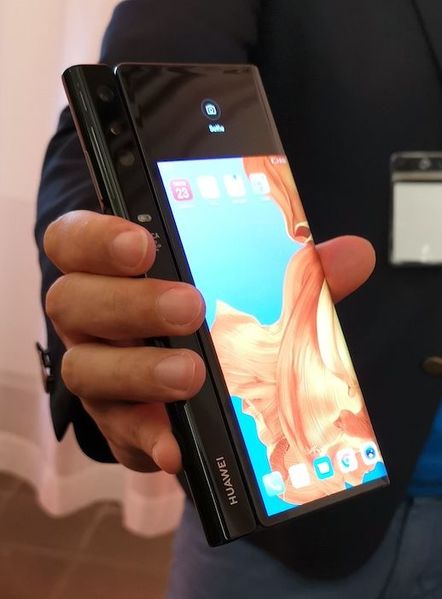 Huawei's foldable rival is an 'outie', not an 'innie'
Industry shudders: Do we have a big problem?
But it's possible that the technology is nowhere near ready. Note that LG and Sony each have an arsenal of patents on foldable mobile displays, including some very promising transparent foldable displays. LG has shown off a rollable TV. It knows how many beans make five. But neither LG nor Sony have given any indication that the tech is ready for prime time in a phone, which needs to be rugged by nature (compared to a TV). LG has explicitly stated not to expect a foldable smartphone from them in 2019.
"It is too early for LG to launch a foldable smartphone," said LG Electronics president Kwon Bong-seok earlier this year.
The question bedevilling the supply chains is whether Samsung has encountered an unexpected manufacturing issue with Infinity Flex, or whether there is a fundamental problem in the physical nature of the displays that makes a pholdable impractical today. The rational deduction – because Samsung isn't stupid or desperate – is that after years of development and testing work, Samsung concluded it's durable enough. If so, the glitches will be remedied fairly promptly, with the "protective film" more securely fastened, for example, and the warnings against removing the film made clear. Then the ships sets sail. However, if there's a physical rather than a process issue, Samsung's sneeze becomes a cold that the industry catches.
Samsung wasn't the only manufacturer being coy when it revealed its foldable. Remember the Galaxy Fold was first "revealed" in very low light last November. So was Huawei – as much if not more so. Look but don't touch.
And now we suspect why. Some reviewers peeled off the film, when they shouldn't have done (says Samsung). However, others saw creases on the fold and more display glitches which the folding robot really should have found. The video Samsung distributed in March now looks a little out of place:
"Huawei will be looking on at these events with glee, but I suspect that its device will have different problems which are no less serious," predicted Edison's Richard Windsor. Huawei's pholdable folds outwards leaving the most vulnerable part of the device exposed all the time.
(Though Xiaomi's pholdable creases in two places, making it even more vulnerable to defects.)
Samsung is continuing to take registrations for the Fold, along with EE, the exclusive network distributor. Neither are taking your money yet. Nor is Huawei. So the un-peelable, foldable phone could be the great white whale of 2019, the pursuit of which sent Captain Ahab raving mad. ®