Cloud cash-cow and stuff-shifter Amazon on Thursday reported $59.7bn in revenue for its Q1 2019, up 17 per cent from a year ago and about what financial analysts expected.
A surprise came in the form of earnings, which hit $7.09 per diluted share (GAAP), representing net income of $3.6bn and about $2bn more than the same period a year ago – a 125 per cent increase. Company observers had anticipated earnings more along the lines of $4.72 per diluted share. Last year, during the same quarter, earnings per share reached $3.72.
The unexpected extent of Amazon's profitability helped lift the company's shares after hours. But what that means is Amazon is plowing less revenue back into growing its operations.
The book seller's cloud division, AWS, accounted for 13 per cent of the mothership's net sales mix, generating $7.7bn in revenue for the quarter. It generated about as much operating income ($2.2bn) as Amazon.com's North American sales operation ($2.3bn, up 99 per cent). In other words, the cloud accounts for about half of Amazon's profits.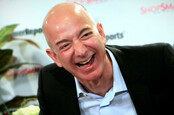 Amazon boss snubs 'expensive', 'sub-optimal' relational databases. Here's looking at you, Larry
READ MORE
AWS revenues, however, only, yes, only, grew 42 per cent, which is less than the 48 per cent rate it managed in the same quarter last year. That suggests a stall in growth, though it is the undisputed heavyweight champion of the public cloud market. As a point of comparison, Microsoft's rival and second-place Azure service saw its revenue grow about 73 per cent for the same quarter.
Amazon's ad business, captured in its "other" category, showed continued growth with $2.7bn in revenue, representing a 36 per cent year-on-year rise. It was a strong showing but not as much of a jump as the company exhibited during the holiday quarter, $3.4bn and 97 per cent growth.
We note that while Amazon's North America retail operating profit doubled, from sales up 17 per cent to $35.8bn, internationally it narrowed its operating loss from $622m last year to $90m in the red this latest quarter, from sales of $16.2bn, up nine per cent. Also, surprising no one, working conditions within Amazon's warehouses remain reportedly punishing.
On a conference call for investors, CFO Brian Olsavsky characterized AWS and advertising as Amazon's faster growing businesses.
Amazon lowered its Q2 2019 guidance, saying it expects net sales in the $59.5bn to $63.5bn range, which translates to growth between 13 and 20 per cent. One reason for that, Olsavsky explained, is that Amazon is working to evolve its free two-day shipping program for Prime members to one day. During Q2 2019, Amazon expects to spend $800m on this. ®
Similar topics