ood new, fanbys. Apple spds up n-str McBook latop kyboad rpairs, ccrding t hs leakd mmo
Time for those geniuses to earn that job title
Apple is speeding up repairs of defective laptop keyboards that have left MacBook users angry, frustrated, and firing off lawsuits.
The iGiant has ordered its posh shops to turn around in-store laptop keyboard repairs faster, according to a memo seen by MacRumors. Repairs have, in the past, been largely done off-site and take three to five days, but now Apple wants its in-store geniuses to fix keyboards on the same day, and is shipping them the parts to do so.
Apple introduced the temperamental and dust-prone "butterfly" key design to its laptops in 2015 to replace the much-better "scissor" mechanism in earlier keyboard models. The new design was criticized for being vulnerable to dust: even a speck could disable a key. After a lot of outcry over failing keyboards, Apple added a silicone nappy into its third-generation keyboard designs in its MacBooks last year in an attempt to prevent the mechanisms from breaking down.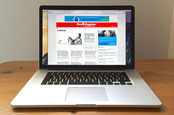 At last! Apple admits its MacBook Pro butterfly keyboards utterly suck, offers free replacements
READ MORE
While Apple has a repair program for vulnerable butterfly models built between 2015 and 2017, laptops with the third-gen butterfly design won't qualify, even though some users are reporting it's not a 100 per cent effective fix.
"Most keyboard-related repairs will be required to be completed in store until further notice," the memo noted.
"Additional service parts have been shipped to stores to support the increased volume. These repairs should be prioritized to provide next-day turnaround time. When completing the repair, have the appropriate service guide open and carefully follow all repair steps."
Apple's legal battle against disgruntled users is far from over, however. On Monday, a Californian court approved another stage in the process of a class action claim against Apple over the defective butterfly design, Law360 reports. The judge rejected claims that Apple knowingly released a defective design, but has permitted other claims to proceed, according to the newswire, including "fraud by omission." ®