No stormy weather on Microsoft's horizon – as quarterly commercial cloud cash balloons 41%
Plus: PC slowdown, chip shortages? Shut yer mouth – we've got loadsamoney
---
Microsoft announced healthy revenues for its third-quarter financial results on Wednesday, citing a growing demand in Microsoft 365 and its cloud services.
In an earnings conference call, CEO Satya Nadella gushed to investors and analysts about Redmond's strong performance. "It's the result of picking the right secular trends," he said. The list was peppered with all the classic marketing buzzwords, like cloud and AI.
But before we take a dive into all the different sectors that make up Microsoft, here are the main figures, for the three months to March 31, summarized:
Revenue was $30.6bn in Q3 of Microsoft's fiscal 2019, an increase of 14 per cent year over year, beating Wall St's expectations.
Net income was $8.8bn, up 19 per cent from the previous year.
Operating income was $10.3bn, a rise of 25 per cent from last year.
Earnings per share (non-GAAP) of $1.14, an increase of 20 per from a year ago. "Microsoft returned $7.4 billion to shareholders in the form of share repurchases and dividends in the third quarter of fiscal year 2019," the biz noted.
Microsoft's, admittedly vaguely defined, commercial cloud brought in $9.6bn in revenue, up 41 per cent, year over year, said Amy Hood, Microsoft's executive vice president and chief financial officer. We note that this "commercial cloud" must span various divisions in various ways, as you'll see from the following breakdown of the numbers.
Services and products specifically lumped under the formal Intelligent Cloud label had revenues of $9.7bn, up 22 per cent. Server products and associated cloud services revenues were up 27 per cent from the previous year, while the Azure platform rose 73 per cent. Enterprise Services sales were up four per cent.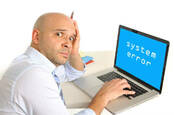 Sophos antivirus tools. Working Windows box. Latest Patch Tuesday fixes. Pick two: 'Puters knackered by bad combo
READ MORE
Meanwhile, the Productivity and Business Process division, which includes Office software and cloud platforms, trousered $10.2bn, up 14 per cent from last year. Microsoft's Office 365, which has about 180 million users right now, includes things like messaging, online video conferencing, and connects to LinkedIn accounts for HR teams. From Dynamics 365 to LinkedIn, everything is pretty much up, up, up at Redmond in terms of sales figures.
Even Personal Computing fared slightly higher at $10.7bn, an increase of eight per cent. This includes things like flogging Windows 10 to computer makers, Microsoft Surfaces, and Xbox live gaming memberships. Despite the ongoing slowdown in the PC market due to Intel processor shortages and other weaknesses, Windows OEM revenues rose nine per cent, and Windows Commercial products and cloud services sales increased 18 per cent, for instance. Redmond therefore believes it could have done even better here if it weren't for the Intel CPU shortages.
"Windows 10 is active on more than 800 million devices, and is the most secure and productive OS," said Nadella. The gaming market is expected to decrease year-over-year, however, due to fierce competition from popular online games like Fortnite, Microsoft said on its earnings call.
Microsoft acquired the professional networking site in 2016, and it has grown 27 per cent from the previous year. Nadella also said Microsoft wanted to extend its Office services to the healthcare sector to make it possible to access patient health care records more securely.
Microsoft's shares are down 0.34 per cent in after-hours at $125.01 apiece at the time of writing. ®