Emulation fans, rejoice! Version 4 of open-source emulator QEMU has dropped with features aplenty and, sadly, one or two omissions.
First the bad news – x86 Memory Protection Extensions (MPX) support has been dropped from all CPU modes. The QEMU team is blunt in its reasoning, declaring the tech a "failed experiment by Intel" in the changelog. The gang has also dropped the "pc-0.10" and "pc-0.11" machine types, urging users to switch to something a bit newer instead.
However, while the QEMU team will cheerfully take away stuff that other teams have already disposed of (x86 MPX support has already been yanked from the Linux kernel) there is plenty in the new release to keep the faithful happy.
Arm fans, for one, will find a ton of Armv8 archtecture extensions and a virt board that allows more than 255GB of RAM. AArch64 processors can boot from a kernel placed above the 4GB RAM marker, and new machines take a bow – two to model the Arm "Musca" development boards and another for the AN521 FPGA image for the MPS2 devboard.
Not to be left out, additional support for MIPS machines arrives along with enhancements for PowerPC, including Spectre and Meltdown mitigations enabled by default for the pSeries. The default pSeries CPU is now the POWER9. For RISC-V, the virt board now supports PCI and USB.
And so the list goes on, making this quite the jump from December 2018's version 3.1.0. Back then, the release was the result of over 1,900 commits from 189 authors. This time around the commits top 3,100 from 220 authors.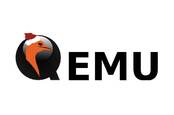 QEMU Qicks out release Qandidate, new Qadence for version 3.0.0
READ MORE
QEMU is both a handy tool, and an important part of the Linux virtualisation stack. It will also cheerfully port to other operating systems, such as macOS and Windows.
The emulator will either perform full-system emulation or user mode emulation, where it will launch processes compiled for one CPU on another. Combined with the Linux Kernel-based Virtual Machine (KVM) module, it claims near-native performance.
While the QEMU team are quick to point out that the jump in numbering is due to the time-based scheme which saw the version tick over to 4 due to this being the first release of the year, there is no getting away from the amount packed into this release.
Those keen to bash out the odd wget, tar and make can get their hands on the update now. ®