This article is more than 1 year old
Bitcoin drops 7 per cent on New York Attorney General's allegations of $850m fraud by Bitfinex
Virtual currency exchange's response probably tells you all you need to know
The price of Bitcoin has dropped seven per cent after New York's Attorney General accused leading exchange Bitfinex of trying to hide $850m in missing funds.
The accusation came in a legal filing [PDF] on Thursday that claims Bitfinex raided the reserves of Tether - a digital currency that is kept at parity with the US dollar in order to allow traders to switch easily between real and virtual currencies – in order to make up the massive shortfall.
Both Tether and Bitfinex are headquartered in the tax haven of the British Virgin Islands and, according to the NY Attorney General, are owned and run by the same group of executives and staff.
Bitfinex is one of a limited number of bitcoin exchanges that allow people both to buy bitcoin and trade it for traditional real-world currencies, including the US dollar, British pound, Japanese yen and euros. As such, it needs to hold sufficient deposits in those currencies to serve customer demand.
Tether is a so-called "stablecoin" and the company claims that every Tether virtual coin is backed by a dollar held in reserves, the idea being that people can be assured of its stability.
But last month, on March 4, the NY Attorney General notes that Tether changed that assurance to note that "every Tether is always 100 per cent backed by our reserves, which include traditional currency and cash equivalents and, from time to time, may include other assets and receivables from loans made by Tether to third parties."
It is not a coincidence that the Office of the NY Attorney General (OAG) opened an investigation into both Bifinex and Tether in November 2018 and has been digging into transactions between them, issuing subpoenas and finally meeting with executives face-to-face in mid-February.
As part of that investigation, the OAG uncovered documents that purportedly show that in mid-2018 Bitfinex didn't have sufficient real-world currency deposits to meet customer demand.
Insolvent? Us?
When investors were unable to withdraw their money, rumors rapidly spread that it was about to go under; Bitfinex put out a statement that claimed the rumors were "a targeted campaign based on nothing but fiction."
It also claimed that all withdrawals in real-world currencies were going ahead without delay – something that OAG says was a bold-faced lie: it quotes internal documents showing that Bitfinex staff were worried about a growing backlog of withdrawals and were pleading for cash to cover the shortfall.
One chat log reads: "I need urgently some funds. Either Tethers or USD, we need at least 100M within the next week. The situation looks bad. We have more than 500 withdrawals pending and they keep coming in."
Other internal documents showed that Bitfinex's processor, Crypto Capital based in Panama, told a senior executive at the exchange that it could not honor the $851m it had in its reserves because the funds had been seized by Portuguese authorities. The OAG notes that Bifinex has not disclosed any loss of funds and a Bitfinex lawyer later told the OAG that they simply don't believe Crypto Capital about the seized funds.
Why was a seemingly legit bitcoin exchange using a Panamanian processor? The OAG filing says it's because US banks had refused to do business with Bitfinex, with Wells Fargo the last US bank to cut ties back in 2017.
At the face-to-face between Bitfinex and Tether executives and the OAG in Feburary, the executives said they were considering allowing Bitfinex to draw on Tether's reserves to cover the $851m loss by extending a "line of credit" of between $600-700m.
The OAG was not impressed and noted that Tether's lawyer did not explain why the company would benefit from such an arrangement, what the repayment terms would be, and did not indicate that it would publicly disclose the line of credit.
When asked why such an agreement did not constitute a conflict of interest given that both companies are run by the same people, the OAG notes that "counsel characterized the impending transaction as 'arm's length,' without providing justification for how that could be the case."
Not good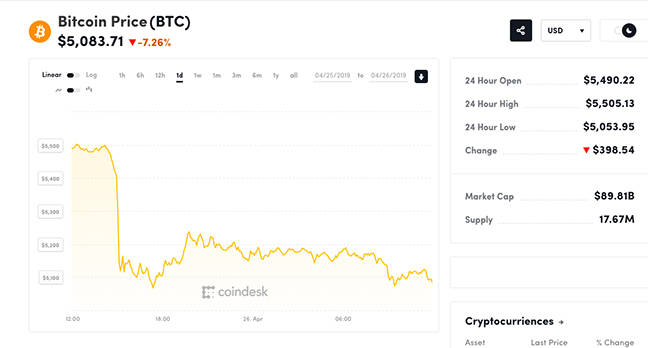 Bitcoin's share price today. Notice anything?
The OAG summary of the meeting? It "raised serious questions about the viability of Bitfinex as an ongoing concern, the possibility that Tether's cash reserves would be dissipated and unrecoverable, and whether Bitfinex and Tether have misled their clients." Which is not the sort of statement you want the Attorney General of New York – and hence Wall Street – to attach to your financial business.
The OAG sent a list of documents demands with a March 7, 2019 deadline – which Bitfinex kept dragging out by supplying copies of tweets and blog posts rather than internal docs.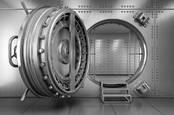 Crypto exchange in court: It owes $190m to netizens after founder 'dies without telling anyone vault passwords'
READ MORE
On March 4, Tether changed its assurance of being fully backed by one-to-one by US dollars to note that "from time to time, [its deposits] may include other assets and receivables from loans made by Tether to third parties."
On March 29, the companies finally admitted that the "line of credit" between Tether and Bitfinex had already happened – it had increased to $900m – and in addition Tether had transferred $625m to Bitfinex.
That was the final straw for the OAG and it filed its civil lawsuit this week, noting that it wishes to "determine, among other things, the extent to which New York investors are exposed to ongoing fraud being carried out by Bitfinex and Tether."
Adding to concerns is the fact that very soon after the OAG's filing became public, roughly $89m in funds were pulled out of Bitfinex – representing 20 per cent of Bitfinex's holdings. It's not clear who pulled the money out.
Statement
With everyone's eyes turning to Tether and Bitfinex the company put out a statement that appears to have had to exact opposite effect to the one they intended.
"The New York Attorney General's court filings were written in bad faith and are riddled with false assertions, including as to a purported $850 million 'loss' at Crypto Capital," it states. "On the contrary, we have been informed that these Crypto Capital amounts are not lost but have been, in fact, seized and safeguarded."
It goes on: "Both Bitfinex and Tether are financially strong – full stop. And both Bitfinex and Tether are committed to fighting this gross overreach by the New York Attorney General's office against companies that are good corporate citizens and strong supporters of law enforcement. Bitfinex and Tether will vigorously challenge this, and any and all other actions, by the New York Attorney General's office."
Bitcoin dropped another percentage point after the statement was published. ®