This article is more than 1 year old
Internet industry freaks out over proposed unlimited price hikes on .org domain names
The domain name system is going to get more expensive and probably less competitive
Updated The internet is about to get a whole lot more expensive.
The organization that oversees the domain name system, ICANN, has proposed an end to price caps on one of the internet's most popular extensions – .org – and many in the internet industry are unhappy about it.
"Imagine if next year you had to pay 10 times as much to renew your domain name as you paid this year," one seller of domains, Namecheap, has warned in a blog post. It and other registrars have started emailing their customer urging them to oppose the plan – which is out for public comment until this Monday, April 29.
Currently, many of the world's biggest internet extensions – .com, .net and .org, among others – are prevented from increasing their prices beyond a certain amount over the course of their contract with ICANN.
It means that you can typically get a .com or .org domain for around $10 a year. But a huge expansion of the domain name system that has seen thousands of new extensions added in the past five years – all of which are free to set their own prices – has led to pressure from the "legacy" registries to take off price controls.
In its proposed contract change, ICANN has used the addition of all these new top-level domains to argue for removing price caps. "This change will not only allow the .org renewal agreement to better conform with the base registry agreement, but also takes into consideration the maturation of the domain name market and the goal of treating the Registry Operator equitably with registry operators of new gTLDs and other legacy gTLDs utilizing the base registry agreement," the organization explains in its public comment explanation.
It is proposing the same change to two other top-level domains: .info and .biz, which are run to by two of the biggest internet registries, Afilias and Neustar respectively.
Dominant
But other smaller registries, registrars and registrants are worried that the change will result in the industry's dominant players becoming even more powerful at the expense of ordinary internet users who will be forced to pay for that domination through higher domain prices.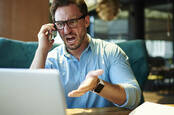 US government tells internet body to hurry the funk up on privacy
READ MORE
From the perspective of Public Internet Registry (PIR), the non-profit that runs the .org registry, the price caps are an outdated control mechanism in an increasingly competitive market.
Its current six-year contract was signed in 2013 and expires on June 30. ICANN and PIR are planning to sign a 10-year contract this time, meaning that the next time the registry can change its pricing structure will be in 2029. And by then, the market for domain names is likely to be radically different.
But there is another reality: the "legacy" registries have enormous customer loyalty and retention for two simple reasons: first, companies have often built their business on a specific name and don't wish to move; and second, domain names are cheap, costing just $10 a year. They are so cheap that very few people who have maintained a website on a given name for years are going to move away until the price is tens or even hundreds of times higher.
When the company that runs .com, Verisign, was granted the right to increase its prices by seven per cent a year in November, its share price rocketed 16 per cent – a $1bn jump in value – for the simple reason that no one expects people to dump their .coms. Those 139 million owners are, in effect, a captive audience.
The same is not true for the many smaller companies that sell domains that end in anything from .app to .vip. There are around 1,200 new extensions and collectively they have 26 million domains – a fifth of the number of dotcoms alone. While .com is still king, .org is no slouch. It has 10.3 million domains under management whereas the largest single new top-level domain, .top, has just 3.5 million.
Economics
In short, the economics are vastly in favor of extensions that have existed for decades (.org appeared in 1985), something that should be a key consideration in any contractual renegotiations. But, despite calls stretching back a decade for ICANN to hire a team of economists to dig into issues like exactly like this, the industry body still doesn't have a single economist among its nearly 400 staff.
As a result, there is no economic analysis by ICANN of a proposal that would fundamentally change the economics of the domain market, an absence that has left many alternatively confused and angry. The change will lead to instability, the industry warns and could end up destroying the very competition that was recently introduced.
The market has already started consolidating, with many new entrants forced to shut down and sell up to larger incumbents. A legacy price rise will almost certainly accelerate that trend, leading to a market with a few huge companies who control large numbers of internet extensions. And that reduced competition will be paid for by domain name owner who will pay a few more dollars each year for their internet address.
So far, with just a few days to go until the public comment period closes, there are just over 130 comments – almost all of which are opposed to the price rise. ®
Updated to add
It seems the issue has hit a nerve. Since posting our story yesterday, the comment forum has exploded and there are currently just under 1,760 comments and the total is rising fast. The vast majority are opposed to the price cap lift.