Intel's CEO Bob Swan told Wall St on Thursday he had "the best job in the world," though it can't have felt like it as he announced his first full quarter's financial figures as the official head honcho.
The chip-slinger has been hit by a triple whammy of woe, he explained. Demand for Intel hardware in China has been much smaller than expected, the continuing fall in NAND prices has hurt memory revenues, and data center buyers who overstocked to deal with earlier supply shortages are now using up their inventory instead of buying new kit.
"We shipped a strong mix of high performance products and continued spending discipline while ramping 10nm and managing a challenging NAND pricing environment," Swan said. "Looking ahead, we're taking a more cautious view of the year, although we expect market conditions to improve in the second half."
You can find Intel's Q1 2019 figures here [PDF] though here's a quick summary for those first three months of the year:
Revenue was $16.1bn for the quarter, showing no growth year-on-year though beat Wall St's estimates by $70m. Intel predicted revenues will fall further to $15.1bn in the second quarter of the year.
Net income for the quarter fell 11 per cent, year on year, to $4bn. You could argue that $4.4m in profit a day isn't bad, but the decline has no doubt been a factor today's Intel stock price dip.
Earnings per share suffered as a result of the profit drop. Intel declared its EPS for the first quarter would be $0.89, beating estimates by two cents, and that has paid out dividends of $1.4bn this quarter, and spent $2.5bn buying 49 million of its own shares to support the price.
During a conference call with analysts, Swan repeated Intel's mantra that Intel wants to move from being a PC-centric business to focusing on data and data centers. That made this quarter's results all the more galling.
Despite a fairly static time for PC sales, Intel's personal computer processor division saw revenues grow four per cent to $8.6bn. This was down to stronger sales of high-end processors and gaming machines. Swan added the ultra-slim Project Athena laptops Intel hopes will spur growth will be out in the second half of this year.
By contrast, data center revenues fell five per cent to $4.9bn. Cloud revenues were up five per cent but platform sales fell seven per cent and unit volume went down eight per cent. Intel expects things to pick up later in the year, based on conversations with key customers.
As for the late and long-awaited 10nm chips, Swan promised that these were being qualified in the next quarter and volume production is ramping up faster than previously planned for, with silicon flying through the fabs at about twice the usual rate, allowing Chipzilla to build up a stockpile of components, which matches a roadmap leak earlier this week.
As a result we'll, allegedly, see the first 10nm parts appear in client-grade computers in the shops in time for this year's crucial Christmas period, and chips for servers and other systems will follow through 2020 and 2021, as Intel previously promised.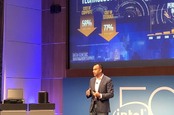 Intel: Yeah, yeah, 10nm. It's on the todo list. Now, let's talk about AI...
READ MORE
"Server CPUs will be a fast follow," Swan said. "Historically there has been a 12-18 month gap between client chips and servers. On 10nm that will be much shorter, all we'll say is it will be a fast follow, some time in 2020, and earlier rather than later."
In the meantime, there will probably be shortages of 14nm parts this year as Chipzilla's fabs work overtime to meet demand.
After Intel's announcement that it was quitting the 5G phone modem market, Swan took an optimistic view. Smartphone modems don't bring in much cash, he said, and Intel's strengths lay in 5G backend infrastructure, where he said Intel Xeon server CPUs will happily find a role.
Intel has produced a 5G-ready FPGA acceleration card, and its Snow Ridge system-on-a-chip for 5G base stations is best in class, he boasted. Swan predicted that by 2023 Intel would have 40 per cent of the 5G base station market share, and said the US semiconductor giant was "laser focused" on hitting this target.
Looking ahead Swan said Intel has adjusted its predictions to allow for less demand from data center buyers and flat demand on the PC side of things. The stock market was less than impressed: Intel's share price is down seven per cent in after-hours trading to $53.52 apiece. ®
Similar topics