This article is more than 1 year old
Gin and bear it: Juniper Networks sales down across the board... so, er, 'better than expected'
Hopes to berry woes of sloe Q1 '19
Juniper Networks CEO Rami Rahim has said the company will be "focused on delivering a return to growth later this year" amid shrinking revenues and weak product demand for its first quarter of fiscal 2019.
Total revenue for the three months ending on 31 March stood at a shade over $1bn, down 7 per cent from the same period last year. Net income came to $31.1m, a decrease of 10 per cent year-on-year and 84 per cent quarter-on-quarter. Some of the downturn has been attributed to the ongoing changes in Juniper's go-to-market organisation, which underwent restructuring and a change in leadership earlier this year.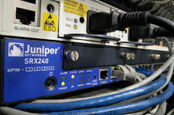 Juniper Networks liberates Contrail SD-WAN from its boxen to frolic among the clouds
READ MORE
It might look grim, but the results came in above analyst expectations and Juniper's own profitability targets, sending shares up 2.3 per cent in after hours trading.
"The first quarter played out largely as we expected, with slightly better than forecasted sales across each of our core verticals," Rahim said. "While we are pleased with the progress we experienced versus our guidance, we are not satisfied with these results and remain focused on delivering a return to growth later this year.
"We believe the investments we are making in our go-to-market organization, new products we are bringing to market and the acquisition of Mist Systems should position us to achieve this objective."
Juniper announced plans to acquire California-based Mist for $405m in March; the startup develops an AI-driven "learning" Wi-Fi platform, which it says makes wireless networks more predictable, reliable and measurable. Before Mist, Juniper didn't offer its own wireless access points, relying instead on partners like Samsung, Ruckus, Aerohive and Aruba.
The networks biz chief admitted Juniper does not expect Mist to generate material revenue during 2019 as the company is integrated.
In terms of revenue breakdown, Juniper made $618.7m from its hardware and software products – down 13 per cent from $710.8m a year ago – but its services business grew 3 per cent to $383m.
Juniper sold $374.7m worth of routers and related products, $176.4m worth of switches, and $67.6m worth of security products in a quarter – all three categories were down when compared to the same quarter last year.
The shortfall was due to weak demand from cloud vendors (down 18 per cent year-on-year) and service providers (down 9 per cent); at the same time, revenue from enterprise customers grew to $343m, up from $331.6m a year ago.
"We remain optimistic regarding the outlook for our enterprise business, which we believe is likely to see the greatest impact from our investment in incremental go to market headcount, as well as the recent acquisition of Mist Systems which closed in the second quarter," Rahim said during the earnings call.
The CEO noted that revenue from Contrail family of SDN-enabled management and control products, which includes the recently launched cloud version, increased nearly 40 per cent year-on-year. "We believe our software as a percentage of sales will continue to increase over time," he said.
Total cost of revenue for the quarter stood at $419.4m, for a gross margin of $582.3m.
The company spent $227.6m on R&D, down 16 per cent year-on-year; $228.5m on sales and marketing, down 5 per cent; $68.2m on administration, up 22 per cent; and $15.3m on restructuring. This means its operating expenses totalled $539.6m, down from $562.9m a year ago.
Juniper finished the quarter with a tad over $3.5bn on its balance sheet.
The company has issued guidance for the upcoming quarter, expecting $1.1bn in revenue, give or take $30m. It said it anticipates a return to year-on-year growth in the fourth quarter of fiscal 2019.
Juniper's board of directors has declared a quarterly cash dividend of $0.19 per share, to be paid on June 24.
"While we were delayed in executing our proposed $300m accelerated share repurchase program during the first quarter, due to our acquisition of Mist Systems, we plan to execute this program during the current quarter given our ongoing belief in our future prospects," said CFO Ken Miller. ®