Northern Virginia – the bit barn capital of the world, the beating heart of our digital universe – has become the first regional market to reach 1,000MW of wholesale colocation capacity, according to real estate specialist CBRE.
For comparison, London – the world's second largest colo market - has just 559MW of capacity. CBRE added that two thirds of all new data centre construction in primary US markets is taking place in the commonwealth (technically, Virginia should not be called a state).
"Explosive growth in cloud computing has created strong demand for data centres in the Northern Virginia region," said Jamie Jelinek, veep for Data Centre Solutions at CBRE.
"It remains the largest and most active data centre market globally. A majority of the activity continues to be within a two-mile radius of the Ashburn core and we expect this growth to continue for the foreseeable future."
Ashburn, Loudoun County, sits in the middle of the region known as the "data centre alley", offering everything an enterprising server farm developer would need: cheap power, great connectivity, an ecosystem of like-minded companies, and local politicians who are very much into their digital infrastructure. Oh, and it's also next door to Washington DC, the NSA, and other government and three-letter agencies.
The data centre alley is considered to be the birthplace of the commercial internet, since it's where AOL was running its dial-up operations in 1996 – at the Dulles Technology Centre, now owned by Infomart.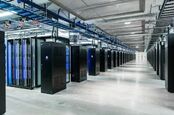 Investors sink cash into data centers: CBRE opens bit barn brokerage
READ MORE
It is also the place where Equinix – one of the world's largest colocation companies - opened its first data centre in the late 1990s.
Local politicians claim that around 70 percent of the world's internet traffic still passes through Loudoun County. Other notable data centre hot-spots in Northern Virginia include Sterling, Herndon, Reston and Tysons.
The number of servers in the region is set to grow even larger: CBRE says there are 250.7MW worth of data centres currently under construction here, and another 316MW in the planning stage. That's more data centres under construction than in the existing inventory of any other data centre market in the US.
Earlier this month, CBRE announced it was launching a speciality brokerage focused on data centres. ®