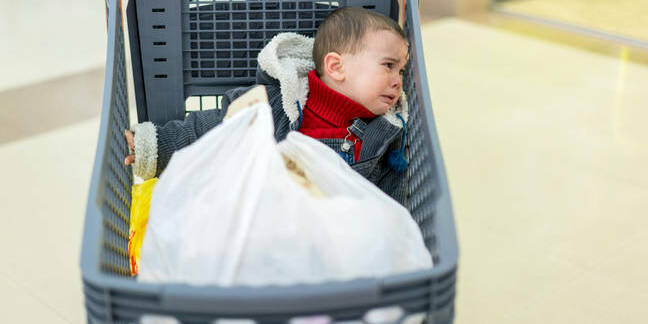 Finally a solution has surfaced to compensate for parents that simply refuse to say no to their little darlings: a self-braking supermarket trolley.
Ever found yourself swerving out of the way of an overindulged juvenile who has commandeered a metal monster and is sweeping down the aisles at pace, only to end up shunting or mangling the heel of an unsuspecting shopper? Worry no more... ok, well maybe worry for a while longer yet.
The Pre-Collision Assist tech, used in some Ford cars, comprises a forward-facing camera and radar to spot vehicles, pedestrians and cyclists in the road, before slamming on the brakes if the person behind the wheel doesn't react.
The same design principles are used by the self-braking trolley: scanning for objects and people and then applying the brakes in advance of a nasty collision with a pensioner or some bananas.
Well, it would if it were commercially available. Sadly the current version is "just a prototype", said Ford. In other words, a marketing gimmick.
"The 'Self-Braking Trolley' is part of a series of Ford Interventions; applying automotive expertise to solve the day-to-day problems we all face," the company claimed.
Now all Ford needs to do is identify a way to stop foxes defecating in your garden (a persistent concern of this correspondent), ensure a smooth Brexit and make Donald Trump stop spouting nonsense on Twitter every day.
Other, er, useful innovations from Ford Interventions include a noise-cancelling kennel for pampered pooches, and lane-keeping beds that prevent the mattress equivalent of a land grab.
El Reg called Ford PR department to pose a bunch of questions but didn't hear back from the marketing bods there at the time of publishing. ®
Sponsored: Ransomware has gone nuclear