Networking overlord Cisco has unveiled Wi-Fi access points and core switches supporting the latest wireless networking standard, the 802.11ax – otherwise known as Wi-Fi 6.
Plenty of its competitors have already launched their own takes on the standard, including HPE's Aruba, Huawei, Netgear and TP-Link – even though the standard is not expected to be officially ratified until late 2019.
Wi-Fi 6 promises lower latency – as low as 10 ms, versus 30ms on Wi-Fi 5; four times more capacity, with maximum linkrate of up to 9,608 Mbps; better performance in environments with many connected devices, like stadiums and shopping centres; and up to four times better power efficiency, thanks in part to the Target Wake Time (TWT) functionality.
Wi-Fi 6 devices support concurrent dual-band 2.4GHz and 5GHz operation, and are backwards-compatible with all previous Wi-Fi standards.
Cisco has entered the game with new Meraki and Catalyst access points, based on its proprietary silicon. Both product families speak multiple IoT protocols besides Wi-Fi, including BLE, Zigbee and Thread. There's also a new campus core switch family, the Catalyst 9600, designed to help integrate Wi-Fi 6 into enterprise networks. The company views the new standard as a connecting fabric that will unite all the devices and simplify their management.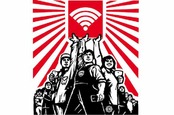 Wi-Fi Alliance ditches 802.11 spec codes for consumer-friendly naming scheme
READ MORE
"Today, a modern office has a facilities network, some shadow IoT devices and the enterprise IT network – we can really converge these into one, while providing a truly wired experience on Wi-Fi. I think Wi-Fi 6 represents the end of the idea of wiring desks for Ethernet," Todd Nightingale, senior veep and GM at Meraki, told The Reg.
Why now...
Cisco might be late to the party, but its participation is important: the company is the world's largest vendor of corporate Wi-Fi, with 44.7 per cent market share in 2018, according to IDC.
New access points are a pre-emptive strike: just a handful of end-user devices currently support Wi-Fi 6, the recently launched Samsung Galaxy S10 smartphone among them.
But Cisco expects that this year Wi-Fi 6 will surf the wave of IoT, helped along by its power efficiency features, and that the new standard will be quickly baked into TVs, doorbells and washing machines.
"Wi-Fi 6 can now allow devices to sleep much more efficiently, essentially turning their radios down for periods of time, thereby dramatically extending their battery life. For IoT devices, this is incredibly important: we want to have battery-powered devices that can be installed in our buildings for years without having to recharge the battery or replace the device," Nightingale said.
If you're wondering why you have never heard about Wi-Fi 4 or Wi-Fi 5, that's because the new standard is the first to have a memorable name. Wi-Fi 6 was chosen as the preferred moniker for the benefit of consumers, who are not likely to remember differences between 802.11n, 802.11ac and 802.11ax.
The new nomenclature was announced by the Wi-Fi Alliance in 2018, and applied retroactively to the previous generation; thus, 802.11ac became Wi-Fi 5, and 802.11n – Wi-Fi 4. ®
Similar topics