Dell pulls, er, large lever, powers up Big Switch OEM deal
BS's cloud software to manage Dell switch hardware
The newly public Dell EMC is to OEM Big Switch Networks software and wrap it up in Dell's own Ready Stack converged systems.
This is a milestone deal for Big Switch, which was founded in 2010 and is privately owned and VC-funded - to the tune of $119.5m, at least according to Crunchbase's numbers.
The nine-year-old Santa Clara-based biz makes SDN tools for use in commodity Ethernet network switches from suppliers such as Accton Edgecore, Dell EMC, and HPE. Its main products are the Big Cloud Fabric (BCF) and the Big Monitoring Fabric (BMF).
Although Dell Technologies-owned VMware has its own NSW software-defined networking products, Big Switch has previously tried its hand at VMware networking, with the startup's Big Cloud Fabric running as an underlay to Vmware's NSX.
The software-defined networking (SDN) startup was punting the combo last year - on Dell's open hardware - claiming it would undercut Cisco and its other, er, big switch pals, as well it might. It told The Reg at the time: "VMware NSX deployed on Dell switches running Big Switch is lower cost than traditional networks from Cisco, and much easier to manage."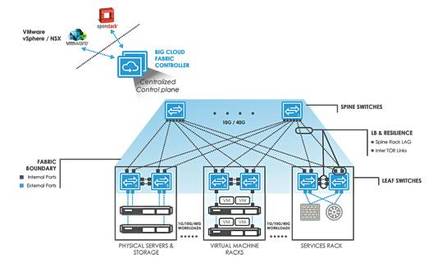 BCF as an underlay.
Under the terms of the deal, the Dell EMC juggernaut will sell Big Switch's products under the Dell EMC brand. The Hopkinton firm will also provide Level 1/Level 2 support on the Big Switch components in the bundle.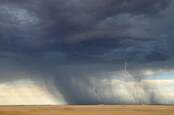 White box, anyone? Big Switch pumps Big Cloud Fabric updates as pretty Big Deal
READ MORE
In the Ready Stack area, Dell EMC and Big Switch will sell validated architectures, along with design and deployment guides for: VxRail, VxRack Flex and the MX-7000 server chassis, which include Big Switch's Big Cloud Fabric software twinned with Dell EMC networking hardware.
Big Switch said BCF provides NSX visibility to network operators to close off any overlay-underlay visibility gap, and can also provide troubleshooting in NSX, vSphere and vSAN environments.
There is an existing reference architecture for the VMware SDDC, using BCF, ScaleIO, vSphere and Dell networking hardware.
As for Big Switch, deals like this Dell EMC one will do no harm to its IPO prospects at all. ®