This article is more than 1 year old
Say hi to pay-as-you-go on-prem IT: Dell, VMware tout private cloud-as-a-service, or rentable tech as everyone would call it
If you're getting HPE deja vu, so are we
Dell Technologies World Hardware giant Dell and its software-slinging sibling VMware have unveiled a service that enables customers to deploy Dell-EMC-built IT infrastructure on-premises without having to buy it outright.
The VMware Cloud on Dell EMC offers the entire software-defined data centre (SDDC) stack from VMware – including vSphere, vSAN and NSX – on top of hyperconverged VxRail hardware. Customers have the option to pay for the service every month, eliminating the need for a large upfront investment in IT gear.
The service is managed by VMware – which will take care of monitoring, troubleshooting, and patching – with hardware support provided by Dell, notable for its global footprint. It is based on VMware's Project Dimension tech, unveiled at VMworld last year.
If it sounds familiar, that's because it is: in 2017, HPE launched a similar service called Greenlake, offering customers servers and software on a pay-per-use model. Other vendors to experiment with the formula include IBM and Rackspace.
Also this week at Dell Technologies World... Dell introduced its hot new date at its DWT event in Las Vegas this morning: Microsoft, with Dell extending its VMware Cloud to support Azure as well as AWS.
The VMware Cloud on Dell EMC is available in a half-rack or a full rack format and can be shipped anywhere in the world – whether a corporate data centre or an edge location like a retail store.
At the moment, the entire process, from order to delivery, takes about four weeks, we are told, and includes "rack and stack" – i.e. the servers will be accompanied by an engineer who will set them up.
The service is currently available in beta, with the US availability in the second half of 2019.
VMware is convinced that, much like millennials, modern businesses are not interested in actually owning any assets. At the same time, the company doesn't believe all workloads will move to the cloud: some organizations will be grounded by data residency rules, some will prefer to maintain full control of their IT, and some will require their digital resources in immediate proximity.
"We see a number of different use-cases for on-prem infrastructure, and we think these are very long-term use cases, and not something transient," Kit Colbert, veep and CTO for cloud platform business unit at VMware, told The Register.
He added that customers want to take advantage of cloud as a model, not a place: "They don't think about it, they just call an API and get what they need," Colbert said. "Customers are not managing the underlying infrastructure anymore, that's taken care of by the cloud provider. And it allows customers to focus more on innovation, the applications that actually differentiate them."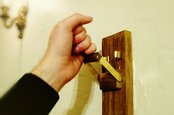 Dell pulls, er, large lever, powers up Big Switch OEM deal
READ MORE
He also said noted that the new service should not be confused with traditional managed services: "A managed service, in my mind, is very human-centric: you work with a provider, and when you need something, you call a person. What we're trying to do here is very much like a cloud service, which, in my mind, is API-centric. You don't have to talk to anyone if you want a new software-defined data centre – you just call an API."
Matt Harris, veep for hybrid IT at HPE UK and Ireland, said he was delighted that Dell decided to follow in HPE's footsteps: "We knew that we had to have a cloud-like experience and that's why the pay-as-you-go model was very important for HPE."
"I think it's great that other organizations look at our strategy and follow it. I think it's great to have more competition in that market, it's good and healthy and only benefits our customers and our partners."
This is not VMware's first experiment with cloud computing: back in 2016, the company launched its own public cloud service in the US. A year later, the entire thing – including two data centres – was sold to OVH, enabling the European cloud provider to enter the American market.
While this was going on, VMware made peace with AWS – something that made it (virtually) the world's biggest cloud provider without having to operate any data centres. ®