This article is more than 1 year old
Everything's just fine at Google's mothership: $1.7bn EU fine, slower growth take their toll
Alphabet quiet on cloud business results, other bets lose a small fortune
Google parent Alphabet reported $36.34bn in revenue and $9.50 earnings per share on Monday for its Q1 2019 quarter, rather less than investors had anticipated.
Analysts expected something more like $37.34bn in sales, and $10.58 per share. The shortfall drove Alphabet's stock down about seven per cent in after-hours trading, and you can read the full results for Alphabet's three months to March 31 here [PDF].
"We delivered robust growth led by mobile search, YouTube, and cloud with Alphabet revenues of $36.3 billion, up 17 per cent versus last year, or 19 per cent on a constant currency basis," said Ruth Porat, CFO of Alphabet and Google. "We remain focused on, and excited by, the significant growth opportunities across our businesses."
One reason for the less than stellar results is the €1.5bn ($1.7bn) fine assessed by the European Commission in March for antitrust violations related to Google's ad business. The fine reduced Alphabet's net income from $8.34bn to $6.66bn for the quarter, down 30 per cent from $9.4bn last year, and its operating margin from 23 per cent to 18 per cent.
Without the fine, EPS would have been $11.90, and profit would have been down 11 per cent or about a billion dollars, year-on-year.
The results also show Alphabet's revenue growth slowing to 17 per cent from the quarter, compared to 26 per cent a year ago. Alphabet's headcount meanwhile surged from about 85,000 to more than 103,000.
On a conference call for investors, Porat pointed to headcount growth and cloud as largest drivers of expenses. Without providing specific cloud figures, she said that Google Cloud Platform "remains one of the fastest growing businesses in Alphabet."
Paid clicks on Google properties grew 39 per cent, but that's a far cry from 66 per cent in Q4 2018 and 63 per cent in Q3 2018. Meanwhile, the cost of those clicks declined by 19 per cent; Google of course would benefit more if the cost of those clicks went up.
Traffic acquisition costs (TAC) – what Google pays its partners – amounted to $6.86bn, up from $6.29bn in Q1 2018. TAC now amounts to 22 per cent of Google's ad revenue, down from 24 per cent.
Google's Other segment, which includes the Play Store, Cloud Platform (GCP), hardware, YouTube Music, and such, reached $5.45bn in revenue, up 25 per cent from $4.35bn.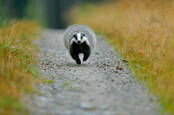 Hands off Brock! EFF pleads with Google not to kill its Privacy Badger with its Manifest destiny
READ MORE
Alphabet's "Other bets" – Access/Fiber, Calico, CapitalG, Chronicle, GV, Verily, Waymo and X – continue to make progress toward self-sufficiency, generating $170m in revenue. That's 20m more than same quarter a year ago. But it's still written in red ink – the segment showed an operating loss of $858m, up from $571m in Q3 2018.
Asked on the call when Google expects to share specifics on cloud financials, what GCP's competitive differentiators might be, and what changes GCP head Thomas Kurian has implemented, Google CEO Sundar Pichai offered only generalities without a specific commitment about when Google will provide more insight into the workings of its cloud business.
Consultancy eMarketer anticipates that Google will generate $103.73bn in net digital ad revenue in 2019, representing about 31.1 per cent of the worldwide digital ad market. Facebook is expected to follow with a 20.2 per cent share of that pie.
"As expected, Google ad revenue growth has been slowing amid downward pressure on ad prices, especially for revenues coming from international markets," said Monica Peart, senior forecasting director at eMarketer, in a statement. "The company was still experiencing tailwinds at this time last year, and is now experiencing headwinds on ad prices, making for a less rosy year-over-year comparison."
Google's search share is predicted to be even more dominant, by eMarketer's measure, accounting for 61.1 per cent of the $141.21bn global search market. Its display ad segment is expected to capture 10.1 per cent of the $172bn of the global display ad market in 2019, behind Facebook and Alibaba.
In terms of mobile ads this year, Google's bounty should hit 35.4 per cent of the $231.12bn global total. ®