The A in AMD stands for 'Aaaaannnyway...' Q2 is gonna be good, chip biz vows, after dismal Q1
Roadmap laid out for 7nm 'Rome' Epyc, Navi GPUs
Chip second-fiddle AMD, a day away from its 50th anniversary, delivered better-than-expected Q1 2019 earnings on Tuesday, lifting its share price about four per cent in after-hours trading to $28.66 apiece.
And that's better-than-expected in the same way that falling into a quagmire and keeping your head about the mud is better than going completely under as expected.
The Santa Clara-based processor designer reported revenues of $1.27bn, down 23 per cent year-on-year, though that's in line with the company's own earlier guidance of -25 per cent for Q1 and beating analysts' expectations of $1.26bn.
All that amounted to diluted earnings per share of $0.01 (GAAP). In non-GAAP terms, that translates to $0.06 per share, more than the $0.05 per share that analysts, on average, had anticipated.
For the three months to March 31, the chip biz posted operating income of $38m, down 68 per cent from $120m a year ago, and net income of $16m, down 80 per cent from $80m, cementing the biz as a rounding error against Intel, for the moment at least. Which is a shame because Intel needs all the competition the industry can muster.
So solid crew
AMD president and CEO Lisa Su in a statement characterized the company's Q1 results as "solid," and noted the expanded gross margin – 41 per cent, up 5 percentage points year-on-year – for its Ryzen and Epyc processors. She also pointed to the year-on-year doubling of datacenter GPU revenue.
The company's GPU revenue appears to have little if anything to do with blockchain applications, whatever those might be. In its Q2 guidance, the company attributed its projected 13 per cent year-on-year revenue decline mainly to "lower graphics channel sales, negligible blockchain-related GPU revenue and lower semi-custom revenue." Compared to Q1, however, Q2 looks to bring 19 per cent more revenue.
Operating expenses reached $543m, an increase of $66m. Part of that increase includes a $5m set-aside as a loss contingency for a legal matter. That may refer to a class-action lawsuit over the company's 2011 Bulldozer chips.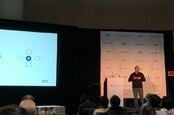 Within Google Cloud, a computer is muttering: Shall we play a game? Wouldn't you prefer a nice game of SaaS?
READ MORE
Su said AMD's upcoming 7nm PC, gaming, and datacenter products should help improve AMD's chip market share and financial growth. For Q2 2019, AMD anticipates revenue in the range of $1.52bn, plus or minus $50m, which is better than analysts' expectations of $1.51bn. She added that AMD had increased its processor market share for the sixth quarter in a row.
Despite Su's positive spin, AMD's major segments showed revenue declines. Its Computers and Graphics segment revenue came in at $831m, which is 26 per cent less than it was during the same period a year ago and 16 per cent less than Q4 2018 and below analysts' expectations of $856m.
The Enterprise, Embedded and Semi-Custom segment fell as well, down to $441m, which is 17 per cent less than the year-ago quarter but 2 per cent better than the previous quarter and better than Wall St's target of $410m.
In the company's conference call for investors, Su highlighted AMD's tie-ups with cloud giants Google – for its upcoming Stadia service – and Amazon – for EC2 instances based on AMD Epyc 7000 chips – to underscore the company's positive outlook.
"Stadia is a great example of how we're expanding the breadth and depth of our customer engagements," she said, adding that AMD expects cloud streaming will become an important vertical market and that the chip biz is working with other customers in that market.
Amazon and Microsoft could be among AMD's future buyers of streaming tech, given that both are said to be planning game streaming platforms to compete with Stadia.
Su also highlighted AMD's deal with Sony to provide custom AMD Zen 2-based processors and Navi-based Radeon GPUs for Sony's forthcoming PlayStation 5 game console.
Su said AMD has achieved key milestones to deliver its next-generation 7nm Epyc "Rome" processor – which claims 4x better floating point performance and 2x better compute performance per socket – to production in Q2 and availability in Q3. The company's 7nm Navi gaming GPUs are on track for Q3 introduction, and will be cheaper than Radeon 7, she said.
Su also said AMD is committed to the enterprise market and expects to make progress there over time.
"Enterprise tends to move a bit more slowly than cloud ... we are continuing to build out our direct sales force as it relates to facing Fortune 1000 customers and I believe we will make progress in enterprise," she said. ®