This article is more than 1 year old
Don't be Russian to judgement but... Bloke accused of $1.5m+ tax filing biz hack, fraud
Nabbed in Thailand, extradited... and now formally charged
A Russian citizen has been charged with defrauding US taxpayers out of at least $1.5m through a series of tax-return hacks.
Anton P. Bogdanov, 33, was formally charged this week with wire fraud conspiracy, aggravated identity theft and computer intrusion this week at federal court in Brooklyn, having been arrested in Thailand in November and extradited to America last month.
Bogdanov, and his unnamed co-conspirators, are accused of obtaining stolen personal information, such as social security numbers and dates of birth, it's claimed. Where exactly this info came from isn't mentioned. Between June 2014 and November 2016, this sensitive data was allegedly used by the Russian and his pals to log into taxpayers' profiles on the IRS.gov website.
Once in, the miscreants would have access to past tax returns filed by their victims, and they used this data to make further false tax filings on their victims' behalf, according to the Feds. Crucially, these new filings were written in a way that diverted tax refunds to prepaid debit cards, which prosecutors claim were controlled by Bogdanov.
The US government also asserts Bogdanov hacked into the computer network of an unnamed third-party tax filing company based in New York state through using a security hole in the remote access software the company uses for employees.
He is accused of using this illegal access to download previous tax returns for an unspecified number of individuals and exploit the information from those returns – including not only Social Security numbers and birthdays but also income and claimed expenses – to craft plausible tax returns on victims' behalf from which they would receive tax rebates, the charges state.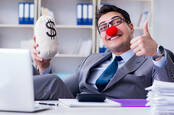 Free online tax filing? Yeah, that'll soon be illegal thanks to rare US Congressional unity
READ MORE
The rebates were then sent to debit cards in the US that Bogdanov and his co-conspirators had set up, it is claimed. Over the course of two years, they accumulated $1.5m in rebates, the indictment [PDF] alleged. A percentage of the proceeds were wired to Bogdanov in Russia, the US government insists.
The scam went unnoticed for over two years before access was cut off. It's not clear how the scam was spotted: whether the individuals affected complained, or the tax filing company spotted unusual behavior.
Typically, Uncle Sam takes tax evasion extremely seriously – if you are an individual; if you're a corporation, less so. As do tax filing companies like Intuit and H&R Block: because if anyone is going to rip-off US citizens through their tax filing software, it is going to be the tax filing companies, OK Anton?
According to prosecutors, Bogdanov set up an elaborate structure and lived outside the US in an effort to stay out of the IRS' reach. But he was tracked down to Thailand, and the FBI worked with the Royal Thai Police to nab him and extradite him to the States. If convicted, he faces up to 27 years in the slammer. ®