The roller-coaster nature of semiconductor demand caught Samsung napping in calendar Q1 (PDF) resulting in a 60 per cent dive in profits, the lowest haul since the fiery Galaxy Note 7 debacle of 2017.
"First quarter earnings were weighed down by the weakness in memory chips and displays, although the newly launched Galaxy S10 smartphone logged solid sales," said Sammy in a glass-half-full statement.
For the quarter ended 31 March, sales crossed the line at 52.39trn KRW (£34.5bn/ $44.9bn), down 14 per cent year-on-year, due to declines across the major divisions.
Device Solutions – memory, mobile system-on-chip and Foundry biz – was hit the hardest, falling 27 per cent to KRW 20.62trn (£13.5bn, $17.6bn): semiconductor was down 30 per cent to KRW 14.47trn (£9.5bn, $12.4bn), of which KRW 11.47trn pertained to memory, itself down 34 per cent. Display Panels fell to 6.12trn KRW (£4.02bn, $5.2bn) from 7.54trn KRW (£4.9bn, $6.4bn) a year earlier.
Demand for memory chips collapsed and this has forced all manufacturers to pull down production forecasts, leading to a drop in prices amid inventory adjustments from those behind the world's largest data centres.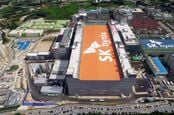 It's a great time to buy DRAM and NAND, not to sell – just ask SK Hynix
READ MORE
Revenue for the IT and Mobile comms division slipped 4 per cent to KRW 27.2trn (£17.8bn – mobile was down 6 per cent to KRW 25.92trn, or £17bn). Softening demand and fierce competition in the low- and mid-range hit sales and dampened operating profit.
Consumer Electronics edged up to 3 per cent to revenues of 10.0trn KRW (£6.6bn, $8.5bn), due to rising unit sales of premium TVs - QLED and ultra-large size models.
Subsidiary Harman, which makes audio visual kit for specific businesses and consumer, turned over 2.19trn KRW (£1.4bn) from 1.94trn KRW (£1.3bn).
Operating profit for the year dived to 6.23trn KRW (£4bn) from 15.64trn KRW (£10.3bn) a year earlier. Samsung's engine room for profits is historically the chip business, but profit from ops dove 69.8 per cent to 3.54trn KRW (£2.3bn). The rest of the drop came mostly from phones.
Still, as one may expect, Samsung chose to look at its commercial life through rose tinted specs and forecast memory chip demand rises even though it admitted "uncertainties in the external environment will persist".
In what can only be considered extremely unfortunate wording, the company said it expected flexible displays to, um, "remain weak" and a small uplift in mobile sales due to growing interest in the latest models.
Profit after tax was 5.04trn KRW (£3.3bn), versus 11.69trn (£7.7bn) in Q1 2018. ®
Similar topics
Narrower topics