This article is more than 1 year old
Crypto-chaps on scam rap in a flap over Slack chat tap, want court case zapped: 'Attorney-client priv info' in messages
Duo also ask for two-year delay in celeb-studded ICO trial
Two men accused of running a cryptocurrency scam have asked for the entire case to be thrown out – because prosecutors may have accidentally obtained and read Slack conversations the duo had with their lawyers.
Sohrab Sharma and Robert Farkas claim search warrants sought by investigators prior to their arrest for allegedly orchestrating a fraudulent initial coin offering (ICO) had scooped up legally protected conversations between them and their attorneys. The Feds got hold of the pair's private communications from "various sources including Slack through the issuance of search warrants."
"The nature of this intrusion could not be more significant in that the communications consist of very specific factual and legal defenses to the charges contained in the indictment and that will be some of the same defenses that the defendants currently plan to raise at trial," the duo's filing [PDF], dated April 29, argues.
Aside from the fact that carrying out legal discussions over Slack is not the brightest move, the claim that attorney-client privilege was disrupted also ignores the fact that prosecutors specifically set up a team to review the results of their search warrants – including from Slack – and pull out any legally protecting information. It wasn't enough, claim Sharma and Farkas.
"The government's intrusion was no accident," they argue, stating that the review team's efforts were "woefully inadequate" and the court should dig into "the extent to which the prosecution team has invaded the defense camp."
Making the situation all the more surreal, it turns out that one of those attorneys that the would-be entrepreneurs were discussing their case with over Slack is John Lambert, a man who was recently arrested for allegedly posing as an attorney online. He isn't a lawyer but a college student, and now faces charges for posing as a team of attorneys and charging people for legal advice.
'Web of lies'
Meanwhile prosecutors argue Sharma and Farkas created a "web of lies" to sell their unregistered crypto investments. The SEC says they made $32m from thousands of investors in their "financial services startup" Centra Tech.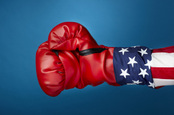 Floyd Mayweather-endorsed cryptocoin startup knocked out by fraud allegations
READ MORE
An endorsement by former heavyweight boxer Floyd Mayweather helped push the scheme but fundamental aspects of it were "simply false" says prosecutors. Claims by Centra that users would be able to convert cryptocurrencies into US dollars or other real-world currencies through a debit card backed by Visa and MasterCard were not true. There were no such agreements or relationships with Visa or Mastercard, the SEC says.
"Centra sold investors on the promise of new digital technologies by using a sophisticated marketing campaign to spin a web of lies about their supposed partnerships with legitimate businesses," an SEC official said at the time the two were charged.
But they aren't ready to give up yet. In other filings this week, Sharma and Farkas argue that the trial needs to be moved back from October this year – five months away – to April 2021 – two years away. Why? Because of the volume of their own Slack conversations that they claim their lawyers now need to go through.
"The massive amount of discovery presents a big problem for the defense attorneys [sole practitioners] to handle and be constitutionally effective given the current schedule that was agreed upon without seeing an enormous chunk of the discovery," they argue. The government has said it is only prepared to give a three-month (rather than two-year) extension to January 2020.
Sharma also wants evidence from his laptop and two of his phones to be ruled as inadmissible in court because, he claims [PDF], they were "unlawfully seized" from his house when he was arrested in April 2018.
In short, it doesn't look good for Sharma and Farkas. ®