Cloudy networking outfit Aryaka is set to expand its ops after netting $50m in its latest funding round, led by Goldman Sachs – the single largest investment in the company to date.
One of the participating organizations was Deutsche Telecom Capital Partners, which led the previous round in 2017.
Aryaka offers software-defined WAN, but rather than selling boxes, like most of its competitors, it has always preferred to peddle advanced networking functionality as a fully managed service. This service operates through more than 35 strategically placed points of presence (PoPs) - including infrastructure hosted with all major cloud vendors - and its own Layer 2 network.
The concept is somewhat similar to how a content delivery network (CDN) operates – and indeed, one of Aryaka's co-founders, Ajit Gupta, previously established Speedera, the first CDN to turn a profit, which was later sold to Akamai.
Besides enterprise users, the company also works with service providers, that can re-badge and resell the functionality to their own customers.
SD-WAN virtualises wide-area networks to up the quality of connections between central offices, which house the bulk of corporate IT, and remote branch locations. This approach is supposed to reduce connectivity costs by using the public internet when appropriate – rather than expensive, but more reliable multiprotocol label-switching (MPLS) networks.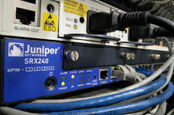 Juniper Networks liberates Contrail SD-WAN from its boxen to frolic among the clouds
READ MORE
In a research paper published last year, beancounters at Gartner predicted that by 2023, more than 90 percent of WAN edge infrastructure refresh initiatives will be based on virtualized customer premises equipment (vCPE) platforms or SD-WAN software or appliances.
Meanwhile, Quadrant Knowledge estimated (PDF) that the market for SD-WAN will grow from $501.3m in 2017 to over $12.11bn by 2023, for a very impressive compound annual growth rate of 56.1 per cent.
Aryaka was established in 2009 and is headquartered in San Mateo, California. The company said it has around 800 customers. The latest round brings its total funding to $184m.
As part of the deal, Matthew Dorr of Goldman Sachs will join Aryaka's board of directors.
"We decided to invest in Aryaka because of their highly differentiated offering, strong customer base, global footprint and their experienced management team," Dorr said in a bland canned statement.
The relative success of the managed, cloud-based SD-WAN model hasn't gone unnoticed: earlier this month, Juniper Networks revealed that its Contrail SD-WAN product is now available as a cloud service. ®