This article is more than 1 year old
Oracle co-honcho Mark Hurd can't wait to turn your $1 of IT support spend into $4 of pay-as-you-go cloud revenue
While customers apparently make savings from consolidated services?
Analysis Database giant and cloud-dream believer Oracle on Wednesday invited members of the media to its Redwood Shores headquarters in California because, as global comms SVP Bob Winslow put it, "We need you to tell our story."
It's a story about money and how much of it Oracle stands to make in the cloud. There's no pretense at Big Red about standing on the moral high ground, about doing no evil, being nice to one another, inclusion or sensitivity.
Such sentiment may yet linger within the hearts of Oracle's employees; it's there in the American goliath's corporate giving to various causes. But it isn't worn on the sleeve, which among the Oracle personnel present at least had been pressed to impress, like the rest of their well-tended outfits.
So it was that the PR-moderated chat with co-CEO Mark Hurd, a disembodied voice over a feedback-plagued PA system, opened with a discourse on global economics as that relates to Oracle's future financial opportunities. The questions posed to Hurd came from an Oracle communications professional rather than independent journalists, who were afforded a single question before the clock ran out.
The gist of Hurd's pitch is that Oracle will grow its revenue simply by moving its existing customers running on-premises software to the cloud. Every year, Oracle reminds us how important cloud is for its future, bear in mind.
"There are just incredible levels of interest about getting out of legacy systems and getting into modern SaaS," said Hurd.
Moving on-premises support contracts to Oracle's cloud offerings, he said, "would roughly speaking double our application revenue."
Hurd explained the anticipated windfall by noting that customers who move from their own data centers to the cloud also move servers, storage, databases, middleware, and the like. The result, he said, is that Oracle is asked to do more.
Generally speaking, he said, every dollar of on-premises support can potentially be converted into $3-4 in a SaaS arrangement. And he insisted this works out well for the customer because the consolidation of services leads to savings of around 30 per cent from buying all those things a la carte.
"Everybody is going to move to modern applications when they can," Hurd insisted, allowing that regulated industries like finance and pharmaceuticals have to move more slowly.
Gunning for the competition
Hurd isn't only looking to convert existing customers. "The user base of ours is a tremendous opportunity," he said. "But roughly speaking, about half of Oracle cloud customers were not a conversion."
The plan then is to shift existing clients to the cloud while winning business away from weaker service providers. "We've got a long list of underfunded competitors," said Hurd.
In the early part of the next decade, Hurd said, 40 to 50 per cent of enterprise workloads will run in the cloud. He said last year something like 15 to 17 per cent of data centers in the US closed and that shows the direction customers are headed.
Hurd sees Oracle as a soup-to-nuts vendor, providing major business applications like CRM and ERP seasoned with trendy tech like AI and blockchain.
"A lot of these newer technologies evolve into features that get embedded into core applications," he said.
In 2009, after being rebuffed in a bid to buy Dropbox, then Apple CEO Steve Jobs reportedly told Drew Houston, the founder of the cloud storage biz, that Dropbox was a feature and not a product. That's how Hurd described AI and blockchain technology.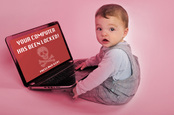 If you're using Oracle's WebLogic Server, check for security fixes: Bug exploited in the wild to install ransomware
READ MORE
When you control an operating system, you can say that, because every free-standing application can be turned into a menu item. Hurd is proposing that those operating cloud platforms can behave the same way. Amazon has turned open source projects into AWS services, so perhaps Oracle can do something similar with its enterprise applications.
Steve Miranda, EVP of Oracle applications development, voiced support for Hurd's contention that a wave of consolidation is underway and single-purpose apps will get swallowed up into cloud suites.
Among the cherry-picked Oracle customers presented to talk the company up, there appeared to be some enthusiasm for outsourcing everything to the cloud.
"We don't have an IT person," declared Mark Moore, CEO of MANA Nutrition, during a panel discussion that followed Hurd's voice-over.
"We didn't want to do a hybrid model because there would be no ROI for us," added Valentino Daloisio, VP of finance and financial systems at EmblemHealth.
A decade after Jobs dismissed Dropbox, it remains a freestanding product, despite the existence of iCloud. For Oracle, there may be a lesson in that: just because you can bundle capabilities into a suite, that doesn't mean customers will prefer them. ®