This article is more than 1 year old
Hey, those warrantless smartphone searches at the US border? Unconstitutional, yeah? Civil-rights warriors ask court to settle this
Latest development in long-running lawsuit over electronic device slurping
Civil rights groups including the American Civil Liberties Union (ACLU) and the Electronic Frontier Foundation (EFF) have pushed this week for a US judge to declare the search of mobile phones at America's borders to be unconstitutional.
In a request for summary judgment [PDF] in a case that was launched back in 2017, the organizations have asked Massachusetts federal judge Denise Casper to agree that border agents must first get a warrant before they are allowed to take away someone's electronic device and search it.
"The Supreme Court's border-related decisions support the conclusion that border searches of electronic devices require a warrant," argues the filing. "At a minimum, border searches of electronic devices require a heightened standard of suspicion that should apply to all such device searches, without distinguishing between methods of search."
The case has been brought by 11 individuals – 10 US citizens and one permanent resident – who represent a diverse group of Americans including journalists, artists, engineers, students, a business owner and a military vet. Several are Muslim; others are people of color. All of them were stopped while entering the United States and had their devices confiscated for weeks or months. None have been accused of any wrongdoing.
The argument to declare a warrantless border search of electronic devices unconstitutional follows previous decisions in favor of personal privacy, including Supreme Court decisions in Carpenter over location data, and warrantless mobile searches during an arrest (Riley).
But the US government has been arguing that the US border is a special case and there are national security interests at stake. It has argued that border agents should only need a "reasonable suspicion" to carry out searches. The ACLU argues that the government is using the border as a "pretext" to get around both the First and Fourth Amendments.
Dragnet
"Warrantless and suspicionless device searches turn the border into a digital dragnet, where the government can search and retain troves of highly personal information about individuals - and their families, friends, and colleagues," the filing argues argued. "The government cannot use the border to circumvent the Constitution."
There is some reason to believe the request for summary judgment may be successful. The government failed in its attempt to dismiss the case last year when it argued that a mobile phone was equivalent to a suitcase at the border because both can be used to smuggle material into the country.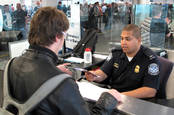 Ex-Mozilla CTO: US border cops demanded I unlock my phone, laptop at SF airport – and I'm an American citizen
READ MORE
When that logic was questioned by Judge Casper – who, incidentally, is the first ever African-American woman to become a district court judge in Massachusetts – the government lawyer fell back to the old canard of child abuse images, arguing that some had been found on electronic devices seized at the border.
This case is far from the only one challenging the US government's right to search electronic devices. Another argues that a warrant should have been required when border agents at the Texas-Mexico border searched the mobile phone of Maria Isabel Molina-Isidoro. What they discovered led to them prosecuting her for attempting to smuggle methamphetamine into the US, so it's not seen as the best test case.
In August last year, American citizen Rejhane Lazoja sued after she was subjected to a secondary screening by border agents who also seized her iPhone. The phone was eventually returned but her lawyers want to know what data was copied and want it returned to her.
And US Customs and Homeland Security are also being sued by the Knight First Amendment Institute in an effort to force them to hand over the rules by which people have their electronic devices seized and searched at the border.
The whole question is a clear candidate for an eventual Supreme Court review. ®