This article is more than 1 year old
'I do not wish to surrender' Julian Assange tells court over US extradition bid
Case will be heard over May and June
Julian Asssange unsurprisingly told a judge today that he did not "wish to surrender myself" to a US extradition request.
Appearing via video link from HM Prison Belmarsh in south-east London, the day after he was sentenced to 50 weeks' imprisonment for jumping bail, Assange said: "I do not wish to surrender myself for extradition for doing journalism that has won many, many awards and protected many people."
"I'll take that as a decline," replied District Judge Michael Snow, presiding.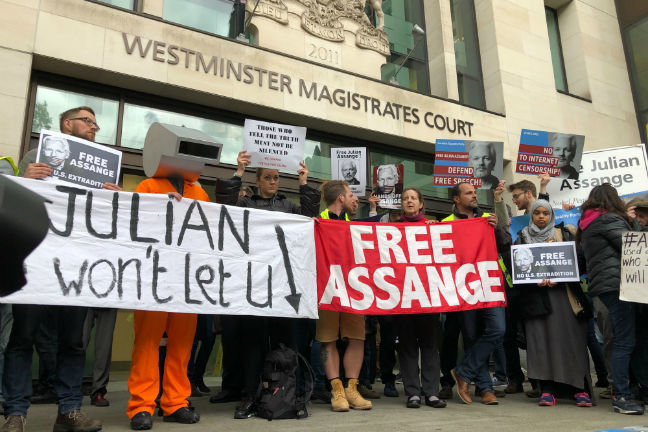 The crowd protesting Julian Assange's extradition at Westminster Magistrates Court. Pic: Gareth Corfield
Barrister Ben Brandon, for the US government, briefly told the court that Uncle Sam had evidence that Assange had been communicating with Chelsea Manning, who had leaked sensitive American government files while serving as a private in the US Army. The American authorities allege these were illegally received by Assange, and thus illegally published to the world.
Charges in the US were unsealed after Assange's dramatic arrest in London a few weeks ago. The extradition case was adjourned for another procedural hearing on 30th May, with a more substantial one listed for 12th June.
Strangely, HM Courts and Tribunals Service decided to hold the hearing in Court 3 at Westminster Magistrates' Court – one of the smaller courtrooms in the building. Around 20 ticketed members of the press were allowed in for the 10-minute hearing, leaving a large number of Assange supporters shut outside and shouting "shame on you" every time the courtroom door was opened.
A large crowd, roughly half-and-half news crews and pro-Assange protesters, gathered outside the court, nestled in the heart of the UK capital. Yellow vests were evident in the crowd, including one white-haired man wearing a vest with the words "FREXIT RIC" on the back in red, white and blue.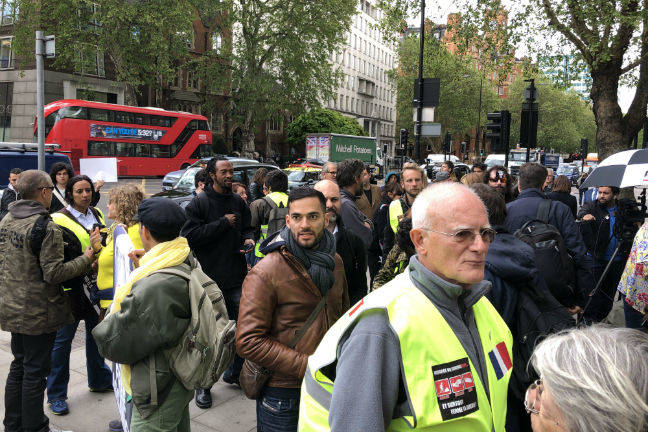 Gilets Jaune: A few yellow vesters were in the mix at Westminster this morning
Lauri Love
Accused hacker Lauri Love also ventured out to support "my friend" Julian Assange, joking that he had actually turned up to enjoy the court's "fantastic instant coffee making facility and my frequent flyer ticket." He told The Register that he had known Assange since before the latter's Wikileaks days, while Love and the Australian were part of the same cypherpunk crowd.
Love said he had visited Assange in the embassy a "few times" and described the cupboard-dwelling WikiLeaker as "getting on very well" with embassy staff, contrary to "some planted stories in the press."
Like Assange, Love faced extradition from Britain to the US over allegations of computer-enabled crimes, though he successfully fought that off thanks to his enduring health conditions.
He explained that the American prosecutors are not supposed, under UK law, to secure Assange's extradition on one set of charges and then slap a more serious set on him once they have him in their grasp.
"It's called speciality," said Love, who now knows a thing or two about extradition law. "If you request extradition, you're meant to put the charges in the request so they're not changed for something else. It's clear there are sealed indictments much higher than the [current] Computer Fraud and Abuse Act charges, possibly espionage ones."
Love also described how Assange's "physical and mental health has deteriorated, naturally," from his seven-year spell inside the Ecuadorean Embassy in London. "While he remains uncertain [about the immediate future], he is clear-minded. Putting a journalist in a high security prison will exacerbate his condition. It should be taken into consideration, especially when he's likely to be in solitary, a form of torture."
The next hearing in Assange's case is on 30 May. ®