HPE court witness subjected to own LinkedIn page
Where am I on that org chart again?
---
Autonomy Trial A witness for HPE who turned up at the Autonomy trial claiming to have been the British firm's chief architect was forced to look at his own Linkedin page and admit that his responsibilities were lesser than the job title would suggest.
Barrister Richard Hill QC excruciatingly took Fernando Lucini through a series of internal organisation charts from Autonomy, asking why Lucini wasn't featured at any of the senior levels.
The Spanish one-time technical marketer had been brought into court by HPE to bolster its case that British entrepreneur Mike Lynch committed a $5bn fraud against Hewlett Packard, as was, when the latter company bought Lynch's firm Autonomy for $11bn in 2011.
Lucini was supposed to be backing up one of HPE's legal arguments about an Autonomy product called Digital Safe. HPE broadly claims that Autonomy's accounting was fraudulent (thus prompting it to buy Autonomy for a vastly overinflated price) when it came to hybrid sales revenues.
Digital Safe, an archiving suite that could be used either on-premises or hosted, was one of Autonomy's key lines sold through its hybrid model. HPE argues that some Digital Safe deals were legitimate and some were fraudulent, basing this on specific features of each deal.
"Your job description was executive president global technology, wasn't it?" Hill, one of Lynch's barristers, asked Lucini.
"That's what it says here," he conceded, looking at an internal org chart showing just how many people he himself reported to while having no direct reports himself. "I don't think I ever received a single piece of paper, email or otherwise, that explained to me what an executive vice president of global technology operations is or does."
Some Digital Safe deals, involving software sold through the hybrid model (an upfront fee plus a reduced ongoing service portion) are said to have been fraudulent because they involved sales of hardware, allegedly as support for on-prem Digital Safe software deployments.
Lynch and co-defendent Sushovan Hussain, Autonomy's former CFO, claim HP knew about this before the fated 2011 buyout. They claim HP only started calling it fraud when the company mismanaged Autonomy after the buyout, making it look as if the software firm was worth far less than they paid, and wanted to find scapegoats to blame.
The majority of Lucini's evidence consisted of him saying he wasn't involved at a high enough level in Autonomy's decision making to shed light on why the company struck certain deals or bought certain products – including a $7.6m licence for Discover Engine, a SharePoint connector usable with Autonomy's IDOL product. Lucini said in his witness statement: "I can think of no legitimate reason for Autonomy purchasing Discover Engine software and source code for a total of $7.6m when it already had its own SharePoint connectors."
Under pressure from Hill, Lucini conceded that the purchase price wasn't something he had the authority to set within Autonomy, having commented internally only on its technical merits, agreeing with Hill's suggestion that the price of the licence was "a call for the commercial people".
The case continues. Next week Christopher Egan, Autonomy's former US head of sales - a man who was reluctant to testify in the UK legal proceedings - will be giving evidence via video link. ®
Bootnote
Although the court referred to a screenshot of Lucini's Linkedin page taken in December 2018, it appeared to be unchanged today.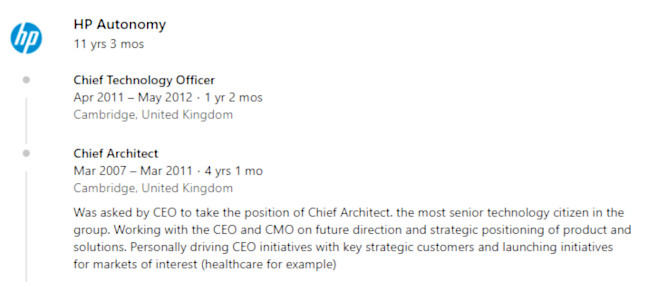 Updated
This story was amended at 10:03 UTC on 9 May 2019 to reflect that Lucini did indeed hold the title of chief architect.