This article is more than 1 year old
Alphabet's top legal eagle and CFO scored $47m apiece in 2018
Lawyer David Drummond and bean counter Ruth Porat get to sleep on beds of cash
Google's parent company Alphabet shovelled $47.2m into chief legal officer David Drummond and chief financial officer Ruth Porat's pockets in 2018, amid another bumper year of litigation - and a sharp decline in ad revenue growth- for the Mountain View crew.
The 17-year veteran legal exec was given $650k in salary as he ran Alphabet's legal house during a 12-month period which began with brogrammer James Damore pursuing a civil suit against Google over his sacking; saw the corp cop a juicy $1.7bn EU fine; and included an investor suit that named Drummond and senior execs, alleging the company's poor handling of sexual misconduct claims, and privacy breaches, had hurt Google's value.
Damore opted for private arbitration behind closed doors late last year. Meanwhile, Google staffers joined a May Day protest yesterday against what they claim is "retaliation" against those who participated in walkouts last year by staffers upset Google had paid millions in exit deals to male execs accused of sexual harassment.
The investors claim the board breached its fiduciary duty and engaged in what the complaint terms a "culture of concealment".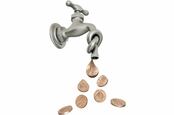 Everything's just fine at Google's mothership: $1.7bn EU fine, slower growth take their toll
READ MORE
Drummond's hefty "pay mix" details were laid bare in a 2019 Notice of Annual Meeting & Proxy Statement filed with America's Securities and Exchange Commission earlier this week.
The board agreed that Drummond and Google and Alphabet CFO and senior veep of four years Ruth Porat would each get equity awards of $46.61m that vest over a four-year period. They will each also receive other compensation worth $29,357 and $19,585 apiece, including $546 spent on Porat's use of aircraft chartered by Alphabet and a miserly $531 for Drummond's.
Alphabet chummily refers to Drummond and Porat as David and Ruth throughout the document - eschewing the formal Mister, Ms and Doctor of, say, IBM staffers.
The filing pays considerable attention to Drummond's work in Alphabet's non-Google "other bets" unit:
"Larry... and the Leadership Development and Compensation Committee considered David's contributions as a primary advisor to Larry and Sergey on Other Bet strategy, which includes providing guidance on investments, operations, talent strategy, and governance... as well as his role advising Alphabet's management and Board of Directors as Chief Legal Officer and Secretary.
Other Bets - comprising Access/Fiber, Calico, CapitalG, Chronicle, GV, Verily, Waymo and X – turned over $170m in revenue last quarter, up from $150m. That's $20m more than same quarter a year ago. But, as we noted earlier this week, jotted underneath in red ink is an operating loss of $858m, up from $571m in Q3 2018.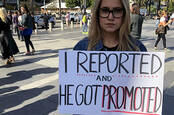 Google vows to take claims of sexual assault, harassment seriously, just like privacy
READ MORE
As for the Cheshire-born CFO, Porat, who was given a $70m signing bonus by Google back in March 2015 after Patrick Pichette took off to go backpacking, "Larry, Sundar" and the Committee: "considered the responsibilities of the Alphabet and Google Chief Financial Officer role... and Ruth's ... leadership of financial operations and allocation of capital across Alphabet and Google."
Alphabet's CFO told investors earlier this week that the growth of the search giant's ad revenue had slowed to 15 per cent - a big drop from the 24 per cent it saw a year ago. Porat signalled that changes to the YouTube algorithm caused lower engagement and ad sales turnover for the firm.
The pair were the only two of the named executive officers who got equity this year. Google CEO Sundar Pichai received a base salary of $650,00, while Larry Page and Sergey Brin continued to receive salaries of $1 each a year, and Eric Schmidt's salary was "maintained at $1.25m through his transition from Executive Chairman to Technical Advisor".
Google's annual meeting of shareholders will take place on 19 June at a new venue. It's not in the Googleplex as usual, the filing warns, but rather in Alphabet's swanky leased Sunnyvale digs, Moffett Place Event Center, about 8km (5 miles) away on Bordeaux Drive.
If you screw it up and need to take public transport, it'll eat up an hour of your time as the closest station is Lockheed Martin Transit Center - but let's face it, as a stockholder of Class A and/or Class B shares, you're taking a 10-minute drive in a Tesla Model X or possibly choppering in on a helipad.
Check-in starts at 7:30am and after you're checked for cameras and tablets, you'll be served free breakfast, the Chocolate Factory promises. Don't be late. ®