Dreaming of building an AI R&D lab? You'll need deep pockets: Tax filing reveals millions of bucks OpenAI alone spent on cloud ML compute
No wonder it split off its non-profit arm to make money
The latest tax return forms filed by neural-network boffinry center OpenAI this year shows just how expensive it is to run an independent AI research institute without the financial backing of giant tech orgs.
The San Francisco-based lab recently effectively overturned its non-profit status to kickstart a for-profit spinoff to compete with the likes of Google, Facebook, Amazon, Apple, and so on. OpenAI is now split into two parts: OpenAI LP, the bigger money-making side, and OpenAI Nonprofit, the smaller portion of the outfit focused on things like its OpenAI Scholars educational program. The ultimate goal is to develop artificial general intelligence (AGI), which is no easy task.
Research and development in modern AI is costly. Neural networks typically perform well on specific tasks like image recognition or language translation after being trained on heaps of data, and then you usually have to start all over again for another task. Researchers often have to retrain their models several times to tweak its performance. All of this requires heavy computing resources, and renting out CPUs, GPUs, TPUs, whatever, you name it, is pricey. Buying the hardware and space for it all outright is a non-starter for independent or fledgling labs.
OpenAI's income tax exemption form, filed [PDF] in March for 2017 when it was still a non-profit, revealed that it splashed out on a whopping $7.95m on cloud computing expenses that year. That's more than double compared to the $2.33m spent in 2016. We were alerted to the filings this week by an industry source.
Some of OpenAI's largest projects such as OpenAI Five, the Dota-2 playing bots and GPT-2 and the giant language model, together enlisted more than 100,000 CPU cores and hundreds of GPUs and TPUs.
There's also another money sucking component in AI research, too. Talent is hard to come by and companies compete with one another to win over the best researchers in the field. They offer premium packages, complete with excellent health benefits and eye-popping salaries.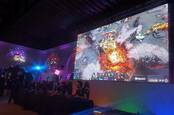 OpenAI retires its Dota-2 playing bots after crushing e-sport pros one last time
READ MORE
Ilya Sutskever, research director, remained the highest-paid OpenAI employee. In 2017, he topped the list at $748,908, whilst Greg Brockman, co-founder and CTO banked $264,201. John Schulman, a senior research was second with $718,728, and Pieter Abbeel was next with $658,077. Other notable names include Andrej Karpathy and Diederik Kingma, who were paid $424,231 and $545,833. The total wages dished out to the rest of the company was just over $13.2m for the year.
Those salaries are significantly greater compared to the previous year. Sutskever was the only exception. He was paid a hefty $900,000 base wage on top of a $1m signing bonus. Abbeel, Karpathy, and Kingma have left OpenAI since, which gives you an idea of staff turnover at these AI research labs and Bay Area tech companies in general.
There are also other costs, such as rent and equipment that contributed to the total expenses cost of over $28.6m. Considering, OpenAI was given about $33.2m in grants and a $3m loan from Sam Altman, its CEO, the research lab burns a lot of its money through expenses, leaving it with just over $4.5m to spare.
OpenAI declined to comment on the loan and its salaries. Obviously, the likes of Google and Facebook are spending orders of magnitude more on machine-learning technology, though they have buckets of ad cash and other revenue to throw at AI-based products, whereas OpenAI is independently focused on achieving AGI.
"We've experienced firsthand that the most dramatic AI systems use the most computational power in addition to algorithmic innovations, and decided to scale much faster than we'd planned when starting OpenAI," the organization previously said. "We'll need to invest billions of dollars in upcoming years into large-scale cloud compute, attracting and retaining talented people, and building AI supercomputers."
It appears the latest tax filing was rejected by California's bureaucrats because the outfit had not yet completed a required independent financial audit. "The state did not deem our submission complete because our third-party financial audit is still wrapping up," an OpenAI spokesperson told The Register on Thursday. "We expect to finish it in the next few months, at which point we will submit those additional filings." ®