This article is more than 1 year old
Apple stock hits bottom ... as AirPod exits man's backside and still works after colonic travels
'I am the passenger / And I ride and I ride / I ride through the city's backsides'
A man in Taiwan swallowed one of his wireless Apple AirPods while he slept but succeeded in retrieving the wayward earpiece – and found it still worked after its dark passage through the human body.
Last week, Ben Hsu dozed off and awoke to find one his AirPods had gone missing. Using his iPhone's Find My iPhone app, he directed the missing device to play a sound to help him find it. The ping, he determined, was coming from within his stomach.
Hsu, a recruiter for the Taiwanese navy based in the port city of Kaohsiung, then visited Kaohsiung Municipal United Hospital where clinicians reportedly confirmed his suspicion with an x-ray.
As Hsu reported no pain, the attending physician prescribed a laxative, reserving surgical intervention for the possibility that the piece might not pass through the patient's intestines.
Statistically, the odds favored Hsu: According to a 2017 article on hearing aid ingestion in Clinical Practice and Cases in Emergency Medicine, "Eighty percent of foreign bodies pass spontaneously through the gastrointestinal tract; surgical intervention is required in only 12–16 per cent. Death is extremely rare."
And sure enough, Hsu passed the device the following day while perched on a toilet at a railway station.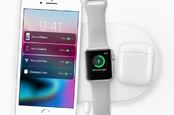 Apple redesigns wireless AirPower charger to be world's smallest, thinnest, lightest, cheapest, invisible... OK, it doesn't exist anymore
READ MORE
Dr Chen Chieh-fan, an emergency room physician at the hospital told the paper that the plastic casing of the AirPod protected Hsu's body from the battery; had the battery been exposed, the doctor suggested, there would have been a greater risk of harm.
Not much greater, however. Only about 1 per cent of swallowed disk batteries result in damaging outcomes, most commonly due to burns from being lodged in the esophagus.
After successfully evacuating the AirPod from his rectum, Hsu proceeded to rummage about his waste to recover the once-white earbud. He washed the device despite Apple advice against getting AirPods wet – "Your AirPods and charging case aren't waterproof or water resistant, so be careful not to get moisture in any openings," the company states on an AirPod support page.
The company's ear stuffers are said to be fairly tolerant to abuse and that supposition is now supported by this star turn as a suppository. The recovered AirPod still had power, 41 per cent, and, as the paper tells it, Hsu called his experience with the product "magical."
Mind you, if he's listening to Nickelback it's still going to sound like s**t. ®