This article is more than 1 year old
Tractors, not phones, will (maybe) get America a right-to-repair law at this rate: Bernie slams 'truly insane' situation
Sanders blasts John Deere in John Deere-buying country
A person's "right to repair" their own equipment may well become a US election issue, with presidential candidate Bernie Sanders making it a main talking point during his tour of Iowa.
"Are you ready for something truly insane?" the veteran politician's account tweeted on Sunday, "Farmers aren't allowed to repair their own tractors without paying an authorized John Deere repair agent."
The tweet links to a clip of a recent Sanders rally during which he told the crowd to cheers: "Unbelievably, farmers are unable to even repair their own tractors, and tractors cost what – at least $150,000 – people are spending $150,000 for a piece of machinery. You know what I think? The person who buys that machinery has a right to fix the damn piece of machinery."
The right-to-repair was also highlighted as one of Sanders' key policies issues in his plan to "revitalize rural America," and he promised: "When we are in the White House, we will pass a national right-to-repair law that gives every farmer in America full rights over the machinery they buy."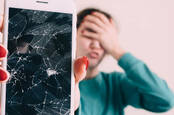 Cali Right-to-Repair law dropped, cracks screen, has to be taken to authorized repair shop
READ MORE
Typically, efforts to secure folks a right to repair their own stuff without falling foul of manufacturers' T&Cs have focused on electronic goods, like smartphones and laptops – particular Apple devices. However, the issue is seen as a vote winner in rural America because mega-manufacturer John Deere has used its dominance in the tractor market to require farmers to take their machinery to an authorized repair shop if they want to make any kind of modifications.
The same issue was previously highlighted by two other presidential candidates, Elizabeth Warren and John Hickenlooper, who, alongside complaints about the growing monopolization of the agriculture market, have noted their "strong support" for a new law that "empowers farmers to repair their equipment without going to an authorized agent" and so reduce delays as well as "create competition among dealers and independent repair shops, bringing down prices overall."
Notably, however, none of the candidates have strayed into the most contentious area of electronic devices. In 2018, John Deere spent $1.6m in Washington DC lobbying lawmakers; Apple spent $6.7m.
Bite of Apple?
Apple is also prepared to be far more aggressive when it comes to a right-to-repair, in large part because an iPhone costs $1,000 whereas $1,000 discounts are often offered on new tractors that start at around $15,000 and go up to hundreds of thousands of dollars.
Just last week, a determined lobbying effort in Sacramento saw one proposal for a California right-to-repair law pulled at the last minute after Apple execs apparently turned up at key lawmakers' offices and claimed that allowing citizens to fix their own phones could result in them accidentally puncturing lithium-ion battery and injuring themselves.
Meanwhile, America's toothless watchdog the Federal Trade Commission has said it will dig into the issue and is looking for "empirical research and data" on the issue: an implicit admission that it expects a serious fight to stricter rules from large corporations.
The issue also grew a little more complex when, last year, the US Copyright Office has ruled that, in certain circumstances, folks can legally break a manufacturer's anti-piracy mechanisms if they want to repair their own gear.
John Deere has become a useful target for presidential candidates desperate to appeal to rural voters but whether a right-to-repair bill, even if focused solely on farming equipment, would get past Congress is highly debatable.
Although the tractor company is being showcased as a company abusing its position to rip off customers, there is a reason why it is such a powerhouse in the tractor market: it makes really good products and is constantly adding new improvements, often with leading-edge technology. And that is a story that lawmakers will hear very loudly if Sanders et al do manage to get a right-to-repair bill into Congress. ®