Marvell's Avengers, er, Aquantia Endgame: Biz gobbled up for $452m in robo-ride Ethernet bid
Self-driving cars are gonna need a decent amount of internal networking
---
Chip designer Marvell is hoping to boost its multi-gig Ethernet business by acquiring American competitor Aquantia, primarily known for high-speed transceivers.
Aquantia went public in 2017, and under the terms of this week's $452m deal, Marvell will pay Aquantia shareholders $13.25 per share, a 39 per cent premium over the Friday's $9.56 closing price.
Marvell said it is interested in the products for the growing automotive in-vehicle networking market, and Aquantia has developed a number of physical layer technologies aimed specifically at self-driving cars.
By integrating Aquantia's tech, Marvell hopes to create silicon that would achieve the speeds necessary to enable level 4 and 5 autonomous driving – level 4 involves fully autonomous driving in controlled areas, like geo-fenced city centres, while level 5 makes the driver obsolete, anywhere.
"Our acquisition of Aquantia will fuel Marvell's leadership in the transformation of the in-car network to high-speed Ethernet over the next decade," said Matt Murphy, president and CEO of Marvell.
Aquantia was established in 2004 in Silicon Valley to peddle Ethernet products for the data centre. Deloitte ranked it as the fastest-growing semiconductor company in North America in 2014, 2015, and 2016.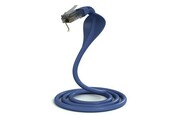 Crusty Cat 5e/6 cables just magically sped up to 2.5 Gbps and 5 Gbps
READ MORE
The automotive market is a relatively recent obsession for the company, but one that has proved successful: for example, Aquantia collaborated with Nvidia on the company's Xavier and Pegasus Drive AGX systems. The latter is an essential part of the Drive Constellation – a server and software combo designed to give self-driving cars a virtual world where they can play without harming any of those squishy humans.
California-based Marvell originally made its fortunes by designing storage controllers, and gradually expanded into wired and wireless networking. In 2018, the company acquired Cavium, notable for being one of the few businesses to successfully introduce Arm architecture into the data centre with its ThunderX product line. Marvell paid $6bn for the privilege of entering the server market.
The latest acquisition has been greenlit by the boards of both companies and is expected to close by the end of 2019, subject to regulatory approval and other customary closing conditions.
The transaction is expected to be immediately accretive to Marvell's non-GAAP earnings per share and generate annual run-rate synergies of around $40m, to be realized within 12 months after it closes, the company said. ®