This article is more than 1 year old
Age verification biz claims no-payment model for 40% of Brits ahead of July pr0n ban
This gov idiocy is making the UK a less safe place to go online
Opinion A startup is claiming to have signed age verification contracts with a host of smut site operators – and is hoping 40 per cent of Britons will display their privates to it in July.
1Account, a business run by Ben Keirle and which was incorporated as One Account Mobile Ltd in August last year, claims to have inked deals with "over 60 companies" peddling pornography to Britons.
These, it claimed in a statement, included Xhamster, beeg, txxx and others with URLs that are too explicit for a, er, family-friendly website. According to 1Account, these pornographers represent "almost 40 per cent of the top 150 most visited domains as ranked by SimilarWeb for UK most Visited Adult Websites."
Keirle, 1Account's CEO, said in a canned quote: "Knowing there are services like 1Account whose offering is 100 per cent free and whose AV methods are accessible to everyone in the UK in one way or another, means as a site owner they know they can comply with the Act and that their users are in safe hands."
The company has not responded to The Register's enquiries about its business model, given that its website boasts that it charges neither consumers or porn companies for its services. We asked whether it resells its users' data; the 1Account website says only that it "does not and will not store any of our users' browsing history, ever" - something no company could do unless it installed surveillanceware on the user's device or router, which does not appear to be 1Account's method of operation.
It claims to offer age verification services that comply with 15 July's incoming UK porn ban, doing so by verifying one's age against your mobile phone contract provider's records or your debit card issuer's records.
One Account Mobile Ltd has two directors: Keirle, and a Constantinos Christoforou of Limassol, Cyprus. Keirle appears to have set up previous companies that ended up in liquidation, judging by a second entry for him on the Companies House website which links him to businesses registered to the same Worthing address as One Account Mobile Ltd.
Christoforou appears to have four separate entries in the Companies House register with different addresses, indicating that he has an interest in property investment. A person listed as having significant control of One Account Mobile Ltd is listed as Oleg Netepenko.
Of course, it's entirely possible 1Account plans to move to a paid model – or ask for voluntary donations – after it has enough uptake. We have no insight into its future plans and The Reg is not implying it will violate privacy regs or sell data; we are merely using this firm to illustrate a point.
Problem, meet symptom
With the British government seemingly hellbent on forcing Britons to compromise their privacy and personal data in order to access certain internet services used by many folk, whether or not they admit it, companies like these are going to be springing up everywhere.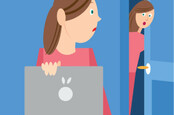 Age checks for online pr0n? I've never heard of it but it sounds like a good idea – survey
READ MORE
The government has admitted the porn block could face anything up to £10m in legal bills in the first year alone, and estimated establishing a regulator would cost between £1m and £7.9m.
There are plans afoot to launch a voluntary age-verification certification scheme, the emphasis being on voluntary. And who will regulate? Why the good old British Board for Film Classification. The BBFC cannot actually set any rules on data protection, however – it can just make recommendations. So far, it has only promised a voluntary certification scheme. It has promised to publish details of age-verification providers that have chosen to be assessed under the scheme and have achieved certification. So far, crickets...
Given the extreme interest from criminals, wrong'uns and law enforcement agencies alike in the data that must be collected by law from people wishing to browse adult websites, the age verification purveyors – which will be tightly regulated – will be sitting on information that is a potential goldmine for hackers. If their data security practices are not up there with those of financial institutions, these companies will inevitably become giant neon-lit targets for black hat hackers.
The porn ban will make Britain a less safe country in which to go online. The social conservatives running the current government and advising it in the civil service know this full well and don't seem to care or understand.
To the kind of deviants who get their indecent thrills from, um, controlling and manipulating large numbers of other people instead of wholesome smut, the risk they are deliberately exposing us to with the porn ban – for them – would seem the rightful moral consequence of our self-abusing sins. One has to ask oneself: why are they making this their business? ®
Updated to add
A spokesperson for 1Account got back to us about the company's business model. They said:
The way that 1Account will make money is actually through its 1Account Pay service that will be launching at a later date, not through its age verification.
1Account Pay is a modern day payment feature where a user who verified by mobile, credit or debit card, can use the same method to make payments online wherever they see the 1Account Pay button. This will apply to 3rd party sites such as cinemas, gambling and other e-commerce sites to allow users to make purchases through their account too. This means users will be able to checkout quickly and securely with just their 1Account instead of entering new payment information every time. The planned 1Account store will also house various deals and discounts for its users too.
1Account will take a small % transaction fee from websites that implement the 1Account Pay service.