This article is more than 1 year old
CryptoQueen on the run from Feds, lawsuit after her OneCoin slammed as 'an old-school pyramid scheme on a new-school platform'
See that girl, watch that scene, digging that 'Ponzi' scheme
Another cryptocurrency caper has been hit with a fraud lawsuit – this time OneCoin, set up and run by the self-titled "CryptoQueen" Ruja Ignatova.
Ignatova and her brother Konstantin are being sued in a New York federal court by investor Christine Grablis, who claims that the Bulgarian siblings ran a "$4bn Ponzi scheme" for an initial coin offering that "never really existed, on a blockchain that never really existed, born from mining farms that never really existed."
Grablis hopes to turn her legal challenge into a class-action lawsuit with a jury trial; the lawsuit [PDF], filed this week, claims that "thousands upon thousands of investors [were] duped into purchasing falsely promoted, unregistered securities that leave even the most ardent cryptocurrency believers crying foul."
It's not just Grablis after the brother and sister however. Back in April, Konstantin was arrested at Los Angeles airport by federal agents on wire fraud charges connected to his role in OneCoin. But the Feds were unable to find his CryptoQueen sister, who they want on charges of wire fraud, securities fraud, and money laundering.
At the time, prosecutors noted that billions of dollars worldwide have been invested in the fraudulent cryptocurrency, which it described as "an old-school pyramid scheme on a new-school platform."
That claim is reiterated in this new lawsuit, which describes an investment program that was "cloaked in technological sophistication and jargon." Investors were told that the cryptocurrency had a real value (a value that was repeatedly adjusted) and could be mined by computers. But, the lawsuit claims, the OneCoins were generated as needed and "given" to investors and didn't actually exist on a blockchain.
The company at the center of the allegations, OneCoin Ltd, works as a multi-level marketing network. Members receive commissions for recruiting others to purchase cryptocurrency "packages" – which comprised "tokens" and "marketing materials."
Literal tokens
The tokens were said to secure positions in "mining pools" that would increase in value over time, though the lawsuit claims they were just another part of the scam and are essentially worthless. The marketing materials "consisted mostly of information copied from Wikipedia and other free informational sources," the lawsuit says.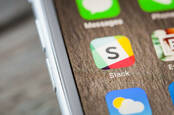 Crypto-chaps on scam rap in a flap over Slack chat tap, want court case zapped
READ MORE
OneCoin members were only allowed to withdraw 60 per cent of their "commissions" and the rest were put into a "trading account" - which could only be used to buy more token or OneCoins. The company claims more than three million members worldwide.
According to the FBI, and reiterated by Grablis' lawsuit, there simply is no OneCoin. "OneCoin was a cryptocurrency existing only in the minds of its creators and their co-conspirators. Unlike authentic cryptocurrencies, which maintain records of their investors' transaction history, OneCoin had no real value," the FBI's Assistant Director-in-Charge William Sweeney said in a statement.
"It offered investors no method of tracing their money, and it could not be used to purchase anything. In fact, the only ones who stood to benefit from its existence were its founders and co-conspirators."
The siblings kept promising that a initial coin offering would be launched, offering numerous dates in 2018 and 2019 as a way of sparking interest but that launch was repeatedly postponed – and has still hasn't happened. The money handed over by investors, the FBI alleges, was instead routed through a series of 'investment fund' accounts.
The FBI claims to have an email between the brother and sister that outlines their exit strategy. It was simply: "Take the money and run and blame someone else for this…"
And the others
The lawsuit names two others as being allegedly responsible: Mark Scott – who was a former partner at major US law firm Locke Lord – and who the Feds accused of money laundering after they arrested him in September 2018; and OneCoin co-founder Sebastian Greenwood, who faces securities law violations, among a raft of other charges. He was arrested in Thailand in November. Which means that only the CryptoQueen herself is not yet in custody.
Last week, two men facing fraud charges for another cryptocurrency scam tried to have evidence against them thrown out because they said prosecutors had accidentally scooped up attorney-client privileged material when they grabbed Slack chat logs. Never mind that one of those "attorneys" was later exposed as a student pretending to be multiple lawyers that offered legal advice online. ®