This article is more than 1 year old
Blame Canada! Zuckerberg subpoenaed to face Cambridge Anal. probe from Canucks
Parliament also wants a word with Sheryl Sandberg
The Canadian parliament says it plans to subpoena Facebook CEO Mark Zuckerberg and COO Sheryl Sandberg as part of a probe into Cambridge Analytica's shenanigans.
The Great White North's Parliament Ethics Committee voted on Tuesday to issue subpoenas for both execs as it looks into how Facebook allowed Cambridge Analytica to collect personal information on 87 million of the social network's users and then, armed with that data, purchase ads specifically designed to target key voting groups and areas in hopes of tipping election outcomes.
"We have given our chair the mandate to issue a summons to Mark Zuckerberg and Sheryl Sandberg if they choose not to come before the International Grand Committee," MP Charlie Angus told CBC.
"We think it's important that they show up .… The corporate indifference to domestic law in Canada and other countries by Facebook needs to be questioned."
The Canuck capital of Ottawa is playing host to the second meeting of an international committee that had been looking into the Cambridge Analytica scandal and measures that governments around the globe could take to protect the personal data of end users.
The group has for months hoped to bring Zuck in for a grilling, without much success.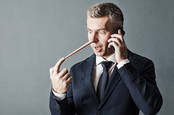 Facebook's at it again: Internal emails show it knew about Cambridge Analytica abuse 'months' before news broke
READ MORE
In the first meeting of the international committee, held last Fall in London, England, the Facebook big cheese opted not to attend and instead sent one of his VPs to testify in his place.
The second meeting is scheduled to take place on May 28, and after that any subpoena for Zuck and Sher would lapse.
While a subpoena would legally compel Zuckerberg and Sandberg to appear before the committee should they be in Canada, it cannot be enforced outside of the country, meaning the pair will be able to skirt the order so long as they steer clear of America's hat between now and the end of the month.
Facebook did not respond to a request for comment on the Parliamentary vote.
This wouldn't be the first time Zuck has faced a grilling from a government committee. In April of last year, the social network tycoon had a highly publicized, if not slightly bizarre, appearance before the US Congress to discuss the fallout from the Cambridge Analytica scandal and the efforts Facebook was making to prevent further abuse of its users' privacy. ®