This article is more than 1 year old
Air Force intel bod Daniel Hale charged with 'leaking top secret drone documents' to journo
Soldier's pilfered docs provided basis for robo-aircraft news reports, say US prosecutors
A former US Air Force intelligence analyst who apparently fed documents to the press detailing the American military's classified drone programs has been indicted on five criminal charges.
Daniel Hale, 31, is believed to have been the source of top-secret documents that lead to reports from The Intercept in 2015 and 2016 detailing the Air Force's use of unmanned drones in combat operations.
A grand jury indicted Hale on one charge each of obtaining national defense information, retention and transmission of national defense information, causing the communication of national defense information, disclosure of classified communications intelligence information, and theft of government property. He faces up to 10 years in prison for each charge if convicted.
According to the indictment (PDF), Hale met an unnamed reporter – widely assumed to be Intercept editor Jeremy Scahill – in 2013 and 2014, and handed over printouts of documents classified as secret and top secret.
Hale is said to have obtained the documents while in the Air Force, from 2009 to 2013, and later when he was working as a defense contractor.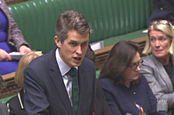 May Day! PM sacks UK Defence Secretary Gavin Williamson for Huawei 5G green-light 'leak'
READ MORE
Authorities would find one of the documents, which Hale had unsuccessfully attempted to delete, on a thumb drive, along with conversations on Hale's phone with a journalist, it was claimed. Those were hardly the only indicators that Hale had leaked documents – he also appeared under his first name discussing the leaks in a 2016 documentary, apparently.
The DOJ did not say why it is only now pursuing charges.
Hale is the third Intercept source to be tracked down and charged by the US government for seemingly leaking confidential information. The outlet was also involved with convicted secret-spillers Reality Winner and Terry Albury, both of whom received prison time for their actions.
While the Intercept declined to name Hale or detail any involvement in the leak, the publication did issue a general statement on the case.
"These documents detailed a secret, unaccountable process for targeting and killing people around the world, including US citizens, through drone strikes. They are of vital public importance, and activity related to their disclosure is protected by the First Amendment," said editor-in-chief Betsy Reed.
"The alleged whistleblower faces up to 50 years in prison. No one has ever been held accountable for killing civilians in drone strikes."
The Intercept has indeed extensively covered the US government's deadly drone programs, including the Obama administration's policies on bombing terrorists with drones strikes that also killed innocent bystanders. ®