This article is more than 1 year old
BT to up targets for FTTP rollout 'if the right conditions are met'
Oh and fiscal '19 crappy, fiscal '20 forecasts gloomy too
It's been an eventful morning for BT's new CEO: he upped targets to roll out fibre broadband to more Brit homes, talked up cost savings and clipped sales and profit forecasts for the next year.
Under the new proposals (PDF), the telco's fibre-to-the-premises (FTTP) ambitions have grown from three to four million by March 2021, and from 10 million by the mid-2020s to 15 million in that time frame.
Philip Jansen, successor to Gavin Patterson who left the building three months ago following several rocky years at the company, claimed BT will invest "if the conditions are right, especially the regulatory and policy enablers".
He said his company is "really well positioned in a very challenging and competitive UK market" but added "we have a lot of work to do".
"We need to invest to stay ahead in our fixed, mobile and core networks, and we need to invest to overhaul out business to ensure that we're using the latest systems and technology to improve our efficiency."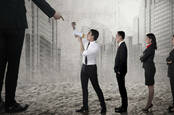 Unionised BT workers reject plans to revamp pay, grading structures
READ MORE
The former state-owned telco this morning reported sales for the full year ended 31 March that showed an overall 1 per cent dip in sales to £5.853bn: only the consumer unit again reported growth, up 3 per cent to £2.638bn.
All other parts of the organisation experienced that typical sinking feeling as BT Enterprise slipped 6 per cent to £1.564bn; Global Services fell 3 per cent to £1.201bn; and Openreach was down 4 per cent to £1.271bn.
For the year, BT revenues fell 1 per cent to £23.459bn: consumer was up 3 per cent to £10.695bn; enterprise was down 5 per cent to £6.292bn; Global Services was down 6 per cent to £4.735bn; and Openreach dropped 4 per cent to £5.075bn.
BT said the consumer unit benefited from the increase in handset costs for customers, growth in the SIM-only base and September price increases for landline and broadband fees. Mobile churn also dropped.
The B2B space remained "challenging" for BT Enterprise due to a decline in traditional calls and line leases where the company is exposed to a high market share. Fixed voice revenue was down 12 per cent. The declines were partially offset by growth in IP, mobile and networking.
Over in Global Services – an area of BT that onlookers have long expected to be sold – the top-line shrinkage was cased by lower IP Exchange volumes and equipment sales as the company left low-margin business on the table.
Openreach's revenue decline was blamed on regulated priced reductions on FTTC and Ethernet products.
BT began its latest restructuring effort in the autumn: it includes a plan to shed 13,000 jobs over multiple years. BT said it squeezed £875m from annual costs in fiscal '19. As such, profit after tax for the year was up 6 per cent year-on-year to £2.159bn.
For the current fiscal that ends in March 2020, BT forecast revenue to decline year-on-year by 2 per cent. ®