This article is more than 1 year old
File Explorer tweaked and Your Phone borked. A fresh Windows 10 Insider build arrives
Microsoft answers whinges that there was not enough Windows at Build with fresh borkage
Build The Windows Insider team celebrated the end of Microsoft's annual Seattle developer shindig, Build, this week by dropping a fresh Windows 10 update for testers and, er, breaking stuff.
Build 18894 arrived a week after its yawn-inducing predecessor and contains File Explorer tweaks for a lucky few and an OS bug that can break the beloved (at least by those able to make it work with their phones) Your Phone app.
For the latter you'll have to wait until the next build for a fix, so it might be worth hanging fire on this one if you're in the Venn intersection of Fast Ring Insiders also unable to live without their Android phone messages in Windows 10.
The former is, however, a good deal more interesting as Windows Search slithers its way into a new take on File Explorer. The change brings online OneDrive content into the results that appear when text is entered into the search box. Click on the entry in the list to view it, or right-click to jump to the folder. Confusingly, if you hit enter, the view is populated with old-school results as normal.
It sounds a bit confusing, as does the act of clicking into the search box itself, which shows the search history.
We'd like to tell you more, but the Insider team has once again pulled the stunt of only sharing the update with a mystery "small" percentage of Insiders (much like when Sets was trialed.) The gang will embiggen the roll-out once "we validate the quality of the experience."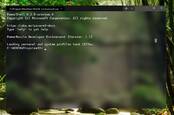 The Year Of Linux On The Desktop – at last! Windows Subsystem for Linux 2 brings the Linux kernel into Windows
READ MORE
The build, which contains the usual list of suspects in terms of known issues - anti-cheat code in games crashing the OS and the borking of some RealTek SD card readers, remains 20H1 and so targeting early 2020.
Of 19H2 (the autumn update) there remains no sign, and no arm-twisting of the Insider team during Build would elicit anything more than "it's coming soon".
However, those expecting 19H2 to be little more than a service pack might be in for a surprise. A source at the Build event told us to expect the shiny new Windows System for Linux 2 (WSL2) to put in an appearance as part of the update.
The WSL team have said to expect the tech to turn up in the Insider program by the end of June, although we've been told that it will appear first in the Fast Ring, which is currently occupied by the 20H1 code.
WSL 2, along with Windows Terminal, stole the show at Build (much the chagrin of fans hungry for a little less cloud and Linux) and its arrival in whatever the Windows 10 autumn update ends up being called is to be welcomed. If only as confirmation that 19H2 really is going to be a Thing. ®