US government internet and spectrum overseer resigns, along with legislative director
David Redl and Mike Platt quit NTIA. Trump Administration craziness to blame
---
The head of the US government department that oversees the internet and telecommunications spectrum unexpectedly resigned on Thursday, along with his Congressional go-between.
Assistant Secretary of the National Telecommunications and Information Administration (NTIA), David Redl, and NTIA Assistant Secretary for Legislative and Intergovernmental Affairs, Mike Platt, both quit, leaving staffers and observers both surprised and unhappy.
The NTIA serves several critical functions. Until recently it oversaw the internet's main administrative body, ICANN, and still plays an outsized role with respect to the domain name system.
But, critically, it also manages transmission spectrums in the US – an increasingly important job given the growing scarcity of available spectrum and the exploding demand for wireless communications, particularly with upcoming 5G technology.
It's not known what sparked the resignations but insiders told The Register on Thursday that there has been growing tension within the department between Redl, Platt and the White House.
That was seemingly reflected in a curt response from Commerce Secretary Wilbur Ross in response to the news: "I thank Assistant Secretary Redl and Assistant Secretary Platt for their service to President Trump, the Department of Commerce, and the American people. I wish them well."
Both Redl and Platt are highly respected in policy circles and have long worked in Congress on relevant topics. Redl was chief counsel of the House Communications and Technology Subcommittee for six years prior to being nominated to the NTIA; Platt was chief of staff for Representative Marsha Blackburn (R-TN) for five years before joining Redl at the NTIA.
In an email to staff announcing his resignation, Redl wrote: "It's with a heavy heart that I let you know that I have submitted my resignation to the President."
Praise
His resignation sparked plaudits from opposite ends of the political spectrum. Non-profit think tank TechFreedom president Berin Szoka tweeted: "Not surprising. I mean, how long could a fundamentally decent, honest, intelligent and thoughtful person possibly spend working for someone who is the complete opposite of all those things?"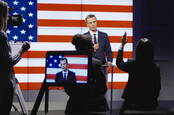 US govt mulls snatching back full control of the internet's domain name and IP address admin
READ MORE
And top lawyer at the Electronic Frontier Foundation (EFF), Ernesto Falcon, responded: "David Redl resigning from NTIA is unfortunate. He was one of the remaining people in this Administration that was a stabilizing force. He had a solid understanding of the issues and respect for Congress. Pretty much the model for Senate confirmed officials."
Redl's resignation also prompted a statement [PDF] from the head of the Federal Communications Commission (FCC), Ajit Pai. "David Redl is a longtime colleague, who served with distinction during his 18 months at NTIA," Pai said in a statement.
"He was a vocal advocate within the Department of Commerce for repurposing federal spectrum for commercial use and fostering the private sector's lead in 5G deployment. I thank David for his service and wish him all the best in his future endeavors."
For many in Washington DC, however, Redl's resignation illustrates that it is increasingly impossible for anyone who wishes to put reasoned and evidence-based policymaking ahead of presidential whim to remain within the current administration. ®