Red Hat shoves OpenShift in VMware's software-defined data centre stack
New reference architecture rolls together containers and VMs
---
Virtualization kingpins Red Hat and VMware have linked arms on a reference architecture that combines their software.
The system involves an implementation of OpenShift – Red Hat's application container management platform – in VMware's software-defined data centre (SDDC) stack, comprised of vSphere, vSAN and NSX.
The pair also intend to release a VMware Validated Design – essentially a data centre blueprint – for OpenShift 4 on SDDC in the coming months.
A few years ago, it was thought that lightweight containers designed specifically for cloud computing posed a deadly threat to VMware, which traditionally dealt in bulky, feature-rich virtual machines.
Instead of dying in a ditch, VMware learned to love Kubernetes, acquired container startup Heptio, and created a container runtime for vSphere, alongside relevant integrations for NSX network virtualization.
Chris Wolf, VMware's CTO for the Americas, said Kubernetes will ultimately morph into the "modern application middleware that crosses clouds, data centres, and edge sites".
The pairing is also notable because Red Hat still competes with VMware in traditional virtualization tools, with its own VM solution based on KVM hypervisor, as attested by this comparison document published in 2018, which claims Red Hat Virtualization is cheaper, faster and more secure than vSphere.
Despite their rivalry, the two software vendors have been known to work together when it was convenient for both: RHEL has been certified on vSphere for at least a decade, and more recently, Red Hat started selling OpenShift support for NSX-T networking and vSAN.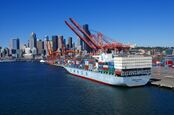 Red Hat OpenShift 4 opens its doors to more Kubernetes goodness
READ MORE
"Until now, mutual customers had to do a lot of custom work to integrate VMware vSphere, NSX-T and vSAN with Red Hat OpenShift and Red Hat Enterprise Linux. This created on-going operational costs that were less than optimal and took away from the new focus on value-creating applications," said Ashesh Badani, SVP for cloud platforms at Red Hat.
The reference architecture is to give enterprises an on-prem environment to run Red Hat OpenShift "and eventually combine that with public cloud deployments of OpenShift to build out their hybrid cloud," Badani added.
Besides working with each other, the two have also involved the upstream open-source Kubernetes community, of which VMware is now a member.
Separately, Red Hat has released OpenShift 4.0, ushering in more automation, better autoscaling and introducing Azure Functions in developer preview. ®