Uber, Lyft rides among the biggest reasons why you're probably sitting in traffic right now – study
Maybe Wednesday's strike helped a bit
Ride-hailing apps like Uber or Lyft are the biggest contributor to traffic congestion in San Francisco, according to a study published in Science Advances today.
The San Francisco County Transportation Authority teamed up with researchers from the University of Kentucky to study the Californian city's transport habits. It is home to the biggest players in ride sharing: Uber and Lyft and vehicles bearing the companies' logo are a common sight in the Cool Grey City of Love.
The study found 15 per cent of all car trips within the city of San Francisco were ride shares. Uber and Lyft are often touted as a way to reduce traffic, as vehicles can transport multiple passengers travelling along a common route at the same time and it provides a cheaper alternative to owning a car.
The latest study, however, shows that's not the case. Figures show these dial-a-ride taxi fleets have increased congestion by 62 per cent in 2016 compared to 2010. Drivers often cruise around in between trips waiting for nearby passengers to order rides via apps on their phone, a process known as deadheading. It is estimated that 20 per cent of the miles traveled by Uber and Lyft cars are from deadheading.
Splitting the cost of journeys on these services makes rides cheaper, and it means that people have chosen to take Uber or Lyfts over other modes of transport. The researchers reckon that some 43 per cent to 61 per cent of all ride-sharing trips could have been swapped for walking, public transport, or cycling.
There are of course other reasons why congestion has gotten worse such as population and employment growth. The city's inhabitants grew from 805,000 to 876,000 and employment increased from 545,000 to 703,000 between 2010 and 2016.
To get a better idea of how much Ubers and Lyfts really clog up San Francisco's streets, the researchers measured how long these vehicles spent deadheading during a six week period in 2016. They looked for the locations and time stamps of rides to check when journeys had started or were completed.
The data was then used to simulate traffic flow for 2016 and was compared to an alternative scenario where the city's roads contained no ride-sharing cars at all. The researchers found that 22 per cent of congestion was down to Ubers and Lyfts.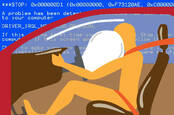 Double trouble for Lyft after share price drop sparks class action lawsuits claiming hype
READ MORE
An Uber spokesperson told The Register that the reasons for congestion are complex: "While studies disagree on causes for congestion, almost everyone agrees on the solution. We need tools that help ensure sustainable travel modes like public transportation are prioritized over single occupant vehicles. That's one reason we believe in comprehensive congestion pricing, which would provide millions to invest in cities' public transportation systems."
Lyft also mentioned the idea of "comprehensive congestion pricing" too, where the cost of rides shoot up when traffic is busier and are cheaper otherwise. "Lyft is actively working with cities on solutions backed by years of economic and engineering research, such as comprehensive congestion pricing and proven infrastructure investment," said Alex Rafter, communications manager at Lyft told El Reg.
"We're investing deeply in products and new infrastructure for bikes, transit and shared rides to contribute to the greater solution. The study in question overlooks notable contributors to congestion including increased freight and commercial deliveries, and tourism growth."
The report comes at a time when some Uber and Lyft drivers participated in a strike across major cities in the United States, United Kingdom, Australia, and South America, on Wednesday. Drivers are unhappy with the 20 per cent pay cut taken by Uber and Lyft as a booking fees and their contractor status, which means they lack full employee benefits like healthcare and paid vacation. ®