Sushovan Hussain told me to fiddle revenues, says Autonomy sales chief
Plus: Barrister's questions 'abuse of process', rages opponent
---
Autonomy Trial While he agreed that Autonomy's ex-CFO was a "highly ethical person", Stouffer Egan couldn't quite bring himself to tell the High Court that Sushovan Hussain had never fiddled Autonomy's accounts.
Leading barristers in the case also clashed repeatedly over whether Egan was being asked deliberately leading questions, causing judge Mr Justice Hildyard to intervene at length.
Cross-examining Egan on behalf of Hussain, barrister Paul Casey asked Autonomy's one-time US sales chief whether he agreed that Hussain was a "highly ethical person" and that he had a "positive impression" of the former CFO.
Egan agreed, saying "the sentiment rings true".
However, when it came to the detail of certain Autonomy deals that were struck towards the end of fiscal quarters, Egan was not so direct.
Casey told him that HPE alleges a deal between reseller DiscoverTech and Autonomy, the end customer for which was a firm called Prisa, had been finalised in April 2011 (in fiscal Q2) but was falsely backdated to 31 March (ie, Q1).
Egan himself described this in his witness statement:
In early April 2011, Mr. Hussain told me that he needed a deal to make up for a revenue shortfall in Q1 2011… He told me that the deal documents had to be dated March 31, 2011. I called David Truitt [his contact at DiscoverTech]. I asked him, as a favor and a one-time request, to do a deal that would be backdated to March 31. On April 4, 2011, I sent Mr Truitt a letter agreement dated March 31...
Casey took Egan through some transcripts from Hussain's 2018 US criminal trial, where Truitt detailed his version of events. Describing how Truitt was uncomfortable because he wasn't sure if it was permitted to backdate sales under the IFRS accounting standard that Autonomy used at the time, Casey asked Egan: "Wasn't that his concern that he raised with Mr Hussain?"
"My memory of what Mr Truitt raised at the meeting was that he was uncomfortable with it, didn't like being asked to do it, didn't want to be asked to do it again," replied Egan. "And, in general, Mr Hussain acknowledged that concern, did impart that it was OK, not ideal, and not something he wanted to be doing as a practice and that he wouldn't be asking again."
Wasn't Truitt's discomfort because the deal was done before the end of Q1 and it was just the paperwork being backdated, Casey asked?
"My feeling," said Egan, "was I did not feel as though we had done the deal so I had bad feelings about papering it after the end of the quarter."
Casey changed tack. Two weeks after that deal, Truitt had had a meeting with Hussain. He asked Egan: "Wasn't the primary purpose of that meeting to enable Mr Truitt to pitch software to Mr Hussain and yourself?"
"My memory is that he asked to see Mr Hussain primarily to discuss the Prisa deal," replied Egan.
'When did Mr X stop beating his wife?'
Egan was then re-examined by Lawrence Rabinowitz QC, HPE's lead barrister. As Rabinowitz asked him whether testimony he had given to the US courts was "accurate and correct", Robert Miles QC, barrister for Autonomy CEO Mike Lynch, got to his feet.
"Can I make an intervention, please?" he said, addressing judge Mr Justice Hildyard. "This is something that we've seen earlier in this trial. The technique that the claimants tend to use is to go to earlier evidence of witnesses, they've generally done it by using the witness' witness statement, and then they say to them: 'Is that your evidence?' Then they're going here to different parts of the evidence of the witness in the trial and then they say to him: 'Is that your evidence?' This is leading. It's suggesting the answer. I'm very concerned about this technique."
The transcripts of the US criminal trial of Hussain are being used as exhibits in the UK civil case. Later on, Miles compared Rabinowitz's method of questioning as being like asking: "When did Mr X stop beating his wife?" and even used the phrase "abuse of this process".
"I'm asking whether he accepts it's an accurate and correct statement. That, with respect, is an entirely different point," riposted Rabinowitz. "My question is not framed in a leading way."
Miles shot back: "With respect, it's his evidence that he gave under oath before the jury, we know all the circumstances of it. With respect, it's pretty plain what the suggestion is."
Egan had signed a deferred prosecution agreement in which he agreed to co-operate with American government prosecutors.
'That is a concern, isn't it?'
Mr Justice Hildyard, who had previously come across as something of a kindly great-uncle mediating between two squabbling but fondly regarded nephews during previous disagreements between Hill and Rabinowitz, made his view clear.
"I share with you that I find this a difficult issue," he said, continuing:
It seems to me that the difference between, on the one hand, asking a witness in re-examination to reconfirm what they have said in a witness statement is not easy to distinguish between asking them, in re-examination, to confirm the evidence that has been attributed to them in an earlier transcript or in a note read to them in the course of that earlier transcript, because in each case you are implicitly suggesting that it would be the worse for them if they did not confirm their earlier evidence. So you are asking a question which expects a certain response and I think that is a concern, isn't it, Mr Rabinowitz?
"In my respectful submission," replied HPE's barrister, "the only way your lordship can be sure you're not getting a partial view of this witness' evidence, not in his witness statement but by reference to what he has previously said, because that's how it was put to him, is for your lordship to be shown the rest of that evidence."
The judge responded: "One can get into – you can remind him about things which would shade his answers, might explain his answers in cross-examination, but to go back and say, 'Look, you said this in your earlier evidence, would you like to say it again?', that's leading, isn't it?"
The rest of the afternoon was filled with Rabinowitz referring to things Egan had said previously, Hill jumping to his feet and objecting that the question was leading, and Great Uncle Hildyard, the very incarnation of patience, having to mediate peace between the two bristling barristers. This met with limited success, however: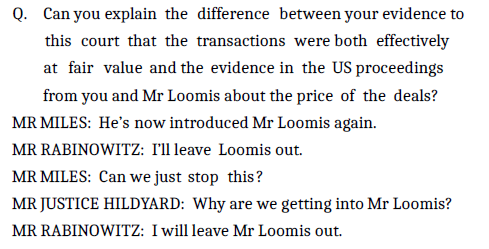 All in all, the scene was not typical of what one would imagine from High Court exchanges between 2019's Commercial Litigation Silk of the Year and the attorney-general of the Duchy of Lancaster, himself a part-time High Court judge.
Egan has now finished giving his evidence. The case continues, with a question hanging over how Hussain will continue taking an effective part in proceedings given that he will be sentenced in the US on Monday. He is widely expected to go to prison. ®