Millions of images stored by Ever, a photo album app, are being used to sneakily train facial recognition systems – and the only way you'll find out is if you read through the 2,566-word privacy policy.
The policy for Ever states that: "To organize your Files and to enable you to share them with the right people, Ever uses facial recognition technologies as part of the Service.
"Your Files may be used to help improve and train our products and these technologies. Some of these technologies may be used in our separate products and services for enterprise customers, including our enterprise face recognition offerings, but your Files and your personal information will not be."
Some unsuspecting customers, who may not have read the whole privacy policy document, are shocked and concerned that their data is being used to train facial recognition systems for unknown applications, according to NBC News.
The broadcaster reported that Ever began work on facial recognition with a separate company called Ever AI, because simply acting as a cloud photo storage selling printed photo books for $11.99 "wasn't going to be a venture-scale business," an Ever executive was quoted as saying. Ever AI has since reportedly raised $16m in venture capital funding.
Ever AI said its systems were used for "surveillance & monitoring, physical access control, and digital authentication." The software doesn't just do facial recognition or face matching, it can also, apparently, detect emotions, predict people's ages, gender and ethnicity too.
Ever AI's case
Doug Aley, CEO of Ever AI, told The Register: "To be absolutely clear, no user information of any kind is provided from our Ever app to our enterprise face recognition customers. That means that no user images are provided, and no information derived from those images, such as vectors or mathematical representations of the images, are provided to our enterprise customers."
Instead, it looks as though the data taken from Ever is being used to train Ever AI's facial recognition models, and this software is then sold to its enterprise customers in the form of an API.
Ever AI's website boasts that its facial recognition systems have an accuracy of 99.84 per cent, and is ranked as the most accurate among all other US companies according to the Facial Recognition Vendor Test, a standardized test set by the US National Institute of Standards and Technology.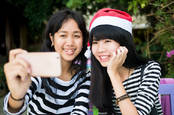 New phone who dis? Facial recognition models more farcical despite progress
READ MORE
It also says that it is powered by one of the "largest, most diverse, proprietary tagged datasets in the world" –hint, hint. The relationship between Ever and Ever AI isn't very clear, however. Ever's privacy policy mentions nothing about Ever AI. Aley did not clarify how the two companies are linked. We have asked Ever for comment, too.
Ever also uses facial recognition technology to sort people's photos making it easier to search through albums, Aley told El Reg.
"We have always taken steps to ensure that Ever is in compliance with all applicable laws, but our goal is to do more than just comply with existing law - we want to take steps to protect the privacy of our users, whether they're legally required or not.
"That is why we've taken proactive actions for a long time to be transparent with our users and to let them know that the Ever app uses face recognition to organize their photos. There is nothing hidden about the fact that Ever uses face recognition to organize photos and create albums for our users, and we've made sure to give users the ability to use or not use that feature as they wish."
Aley did not say what Ever AI's policy was for selling the technology to law enforcement or the military. ®
Similar topics