One of the original creators of YouTube, Jawed Karim - whose face has been viewed millions of times on the video-sharing website - has apparently complained about having to sign in to Google+ to leave a comment below clips.
Karim, who is best known for appearing in the first vid ever to be uploaded to YouTube back in 2005, has - it would seem - posted the following comment on the Google-owned service:
why the fuck do i need a google+ account to comment on a video?
As noted by the Verge, It's unclear if Karim's YouTube account has been hacked into, allowing an imposter to make it appear as if the YouYube co-founder - whose handle on the site is "jawed" - is pissed off with Google for forcing its users to create Google+ IDs to access the site.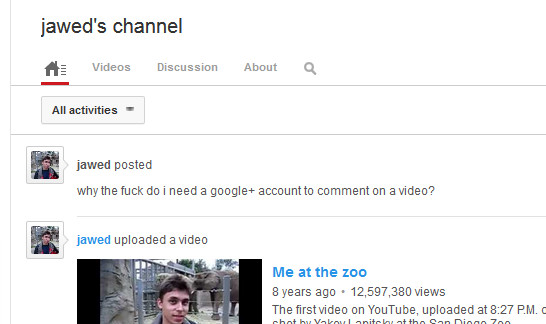 Jawed's WTF moment. Who says everyone likes G+?
He created YouTube eight years ago, along with Steve Chen and Chad Hurley. In 2006, Google paid out a jaw-dropping $1.65bn for the loss-making service and then waited a very long time for the site to start turning a profit.
Google recently changed the way its comment system works on YouTube to make it more palatable to advertisers by stripping it bare of controversy. ®
Similar topics