GPU near-monopoly Nvidia will be working alongside King's College London to put machine learning algorithms to work on NHS datasets.
The two organisations are building an AI platform based on Nvidia's DGX-2 servers, which will be used to train computers to automate the most time-consuming part of radiology interpretation.
A single DGX-2 contains 1.5TB of RAM, 30TB of NVMe storage and 16 Tesla V100 GPUs with 32GB of memory each, connected to the two Xeon Platinum 8168 CPUs using high-speed NVlink interconnect, and to the rest of the data centre using 8x EDR InfiniBand.
As this is a healthcare project, it will involve patient data, so the GPU-flinger and the uni said they will be using federated learning – a concept in machine learning that allows AI algorithms to be developed collaboratively, without having to share training data.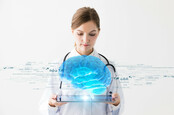 UK.gov: NHS should be compensated by firms using its data goldmine
READ MORE
Hospitals participating in the project include King's College Hospital, Guy's and St Thomas', and South London and Maudsley.
Nvidia will not have access to patient information. "The people responsible for the data are the IT and Clinical Scientist teams that manage that data in an hospital setting," Jorge Cardoso, CTO of King's College AI Centre, told The Reg.
"Two of the trusts have already obtained ethics and have governance systems in place to do research on the data, while the remaining trusts are still undergoing these processes. We are working with the local Caldicott guardian, information governance teams, and several patient representative groups, to ensure that data access is ethical and warranted."
Answering a Parliamentary question about "what steps (the) NHSX will take to ensure that patients are (a) informed about and (b) engaged in the use of artificial intelligence in healthcare", junior health minister Jackie Doyle-Price said last month that UK.gov's new tech, data and digital quango is "developing tools to help technology vendors comply with principle 7 of the Code of Conduct for Data-Driven Health and Care Technology: 'Show what type of algorithm is being developed or deployed, the ethical examination of how the data is used, how its performance will be validated and how it will be integrated into health and care provision'."
Data protection concerns are likely behind the use of federated learning, which allows several hospitals to work towards the common goal without having to combine their datasets.
The concept was popularised by chief data slurper Google in 2017 as it concocted a way to "learn" about users of Android devices without infuriating people by sucking up all their details into a central repository.
The graphics processor supremo claimed the work could lead to breakthroughs in classifying stroke and neurological impairments, as well as determining the underlying causes of cancers.
The project is supported by the London Medical Imaging & AI Centre for Value-Based Healthcare, located at St Thomas' Hospital – the big building just across the river from the Houses of Parliament.
The centre was established to find uses for machine learning in oncology, cardiology and neurology, and is run by a consortium of academics, NHS and industry folk. Besides Nvidia, the firms the centre has inked deals with also include IBM, Siemens and GlaxoSmithKline.
"This centre marks a significant chapter in the future of AI-enabled NHS hospitals, and the infrastructure is an essential part of building new AI tools which will benefit patients and the healthcare system as a whole," said Professor Sebastien Ourselin, head of the School of Biomedical Engineering and Imaging Sciences at King's College.
The AI platform will be available to NHS trusts across the country.
The deployment at St Thomas' will also use the Nvidia Clara AI toolkit, announced earlier this year at the GPU Technology Conference (GTC) and aimed specifically at use cases in medicine. Clara – named after Clara Barton, the nurse who established the American Red Cross – includes libraries for data and image processing, AI model processing, and visualisation. ®
Similar topics