Northern Virginia is the most important data centre market on the planet, with more than a gigawatt of colocation capacity, and even more servers hidden in cloud data centres.
But it has a very serious problem – almost all of the bit barns in the region are forced to buy their electricity from a single provider, Dominion Energy.
The US state's politicians have been trying to curb Dominion's monopoly for years, to no apparent effect. Environmentalists have been rallying against the company over its energy mix – of which only around 5.6 percent comes from renewables – but they haven't got very far either. Now, it's the turn of some of the world's largest tech companies.
A letter signed by businesses including AWS, Apple, Akamai, Equinix, Microsoft, Iron Mountain, and Salesforce this demands that "energy providers" in Virginia – which basically means Dominion – offer more solar and wind power to data center operators.
The authors note that the data center industry in Virginia is responsible for more than $10.2bn in annual economic output, 43,000 jobs and $349m in state and local tax revenue.
"Given the significance of our growing and energy-intensive industry in relation to total energy demand in Virginia, companies' data center energy interests should be taken into account in decisions regarding the future of the region's energy infrastructure," states the letter.
"Dominion Energy's re-filed proposed 2018 Integrated Resource Plan again fails to fully take into account the energy preferences of the data center industry—by limiting the amount of competitively-procured solar energy, neglecting to consider energy storage as a cost-effective and beneficial energy resource, and continuing to plan for the development of additional natural gas infrastructure."
The authors are asking for local energy storage (LES) to be integrated into the grid to improve its stability and simplify adoption of renewable energy sources – output of which can vary depending on weather conditions.
Of course, abovementioned corporations are primarily concerned about their public image, and less about the impending apocalypse caused by global warming, but you can't call this lip service either. For example, Google is now the largest corporate renewable energy buyer in the US, purchasing more than 2.6 gigawatts of wind and solar energy.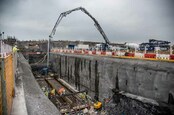 Britain's on the brink of a small-scale nuclear reactor revolution
READ MORE
AWS exceeded 50 per cent renewable energy usage in 2018, and its wind and solar investments produce more than 2,700,000 MWh of renewables annually.
Microsoft's renewable portfolio totals more than 1.2 gigawatts. "This rapid growth, both within our portfolio and beyond, is because these deals are good for business," the company's spokespeople wrote in 2018.
Apple achieved the 100 per cent renewable mark, but with a caveat: both Google and Apple are using special power purchase agreements (PPAs) – market tools created to fund renewable energy production even when there is no solar or wind capacity in the immediate vicinity.
"Clean, flexible, and dynamic grid–replete with renewable energy and modern energy technologies – is the way of the future. It is vital that the energy investments being made today are forward-thinking and truly serve the best interest of ratepayers, the economy, and the planet for generations to come," the letter concludes. ®